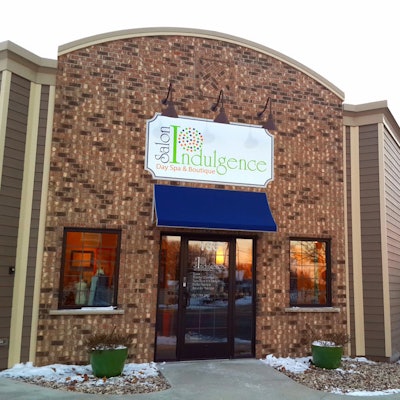 Salon Indulgence is in the heart of Little Chute. It's a town where people live their entire lives, as did their parents and grandparents before them, so a lot of our clients have been coming to them since they opened. They're located in an area that stays relatively the same, but they're always expanding and growing their services and team. They strive to be trendy, eclectic and welcoming. One of the things that sets them apart is their customer service. The moment a client walks in the door, she is greeted with kindness and offered a beverage. Additionally, every month they offer a new DIY product in our Make & Take bar. For $5, clients can make and take home a facial scrub, lip gloss or hand cream featuring Dōterra essential oils. We talked to owners Melissa Whitcomb and Melanie Heindl to learn a little more about the salon…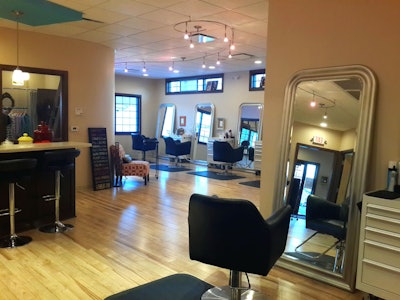 THE LOOK
The decor of Salon Indulgence is eclectic with a positive vibe. When we moved into our current location three years ago, we repurposed many of the things from the old space. For example, we made a table out of one of the old doors for our Make & Take bar.
CLIENTELE
We have a wide range of customers. Our average demographic is 40 to 60 years old, but we're also very busy in the summer and fall with bridal parties, as well as teenage girls going to prom and homecoming. Recently, one of our clients celebrated her 99th birthday! On average, clients are in the salon for an hour and spend $35. We've only had two male nail clients—and one of them was here to check 'get a pedicure' off his bucket list!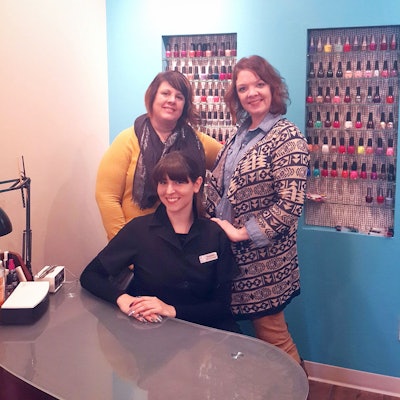 Owners Melissa Whitcomb (left) and Melanie Heindl with nail artist Rebekah Menn (seated).
IN-DEMAND SERVICE
Our most popular service is a gel manicure with nail art. The service is $35 and roughly 75 percent of clients also ask for nail art on their hands or toes at an extra charge of $5 to $10.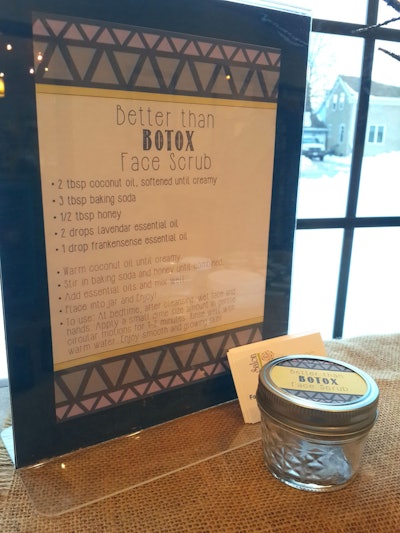 THE GOODS
Our largest selection of gel polish is Gelish. We also have the matching Morgan Taylor polish for clients who want the same color on their toes. Additionally, we have a growing number of OPI gel polishes to match our collection of OPI lacquer.  For nail art, we use Akzéntz Gel Play and Young Nails Kaleidoscope, and we use Young Nails Synergy Gel hard gel for clients who struggle with acrylic. While we don't have nail products for purchase, if clients are interested in a polish or hand cream we have used in a service, we can order it for them.
As for retailing, the salon's boutique sets us apart. We're a one-stop shop: Come in for a manicure/pedicure, hair cut, massage, facial or wax, and pick up a new blouse for yourself and a gift for a friend on your way out. Similar to the design of Salon Indulgence, the boutique has an eclectic mix of things for sale, including jewelry, clothing, scarves and home decor items. In fact, we get a fair number of people who stop in specifically for the shop. Overall, the boutique accounts for 15 percent to 20 percent of our revenue.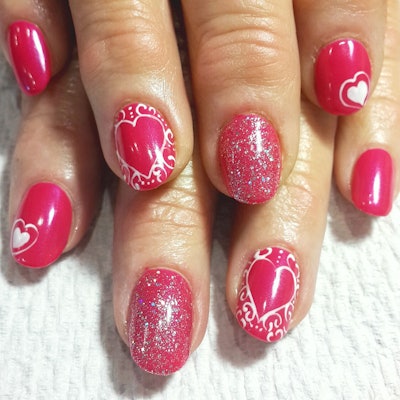 SOCIAL MEDIA
Facebook has definitely been the most successful social media outlet in promoting our business. We post a picture of a set of nails, then that client shares it, and then a friend who has never heard of Salon Indulgence sees it. Word, so to speak, just spreads so quickly. We are also on Instagram and use it for inspiration. We follow nail artists from around the world to stay up on the latest trends and newest techniques, especially Russian and Japanese designs.
PRAISE
Many clients say that we're "the best kept secret in town." Little Chute is such a small city, people are surprised that we're not a small-town salon. Our skill, service and quality rival that of bigger salons in larger cities.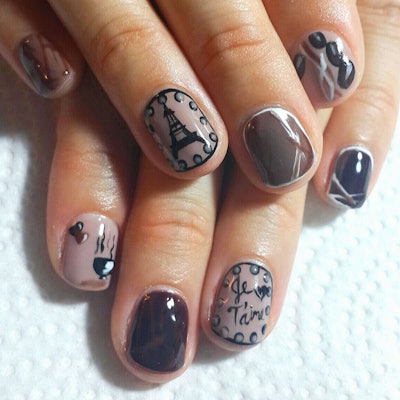 ADVICE
If you're considering opening a salon, make sure that it's your passion because you're going to be putting in more hours than you can imagine making it successful. Don't leave anything to chance and, most importantly, make sure that you have a quality team. Don't just hire anyone; be picky! A good team means you'll be that much more successful.
Owners: Melanie Heindl and
Melissa Whitcomb
Year Opened: 2002
Address: 133 E. Main St. Little Chute,
WI 54140
Phone Number: 920.788.2812
Hours of Operation: Mon. 10 a.m. –
6 p.m., Tues. & Thurs. 8:30 a.m. – 8 p.m., Wed. 10 a.m. – 8 p.m., Fri. 9 a.m. – 6 p.m., Sat. 9 a.m. – 4 p.m.
Website: salonindulgence.org
Images: Melanie Heindl and Melissa Whitcomb