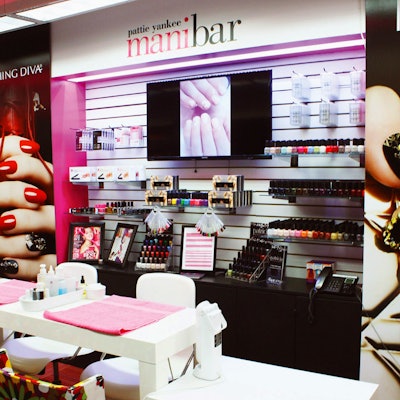 Celebrity manicurist Pattie Yankee now has her own salon! Pattie Yankee Manibar is located in the heart of the SoHo neighborhood of New York City. It's a hip area with a lot of shopping. Due to its fame, SoHo also draws in many tourists. The salon is nestled inside Ricky's NYC, which retails beauty supplies and other trendy items for consumers and professionals. Manibar sits in the back of the store just before Revolver, Ricky's hair salon, so customers are able to have a range of beauty needs met at one location. Yankee herself works in the salon at least three days a week, sometimes alongside another technician and other times on her own. There are usually two technicians working each day.
THE LOOK
The design of Manibar is about simplicity and function because it has to fit reasonably well inside of Ricky's. The salon features a backdrop with the Manibar logo and a retail area where polishes and products are showcased. There is also an LCD screen on the wall that displays nail design samples that clients can choose from.
CLIENTELE
Our client base is as diverse as the city in which it's located: young women, older women, women of every race, etc. Additionally, we get a lot of tourists and people coming into Manhattan from the surrounding areas. I also have the privilege of some of my celebrity clients visiting Manibar! On average, most clients spend about $70 each visit and stay for roughly 90 minutes, as almost every client asks for nail art.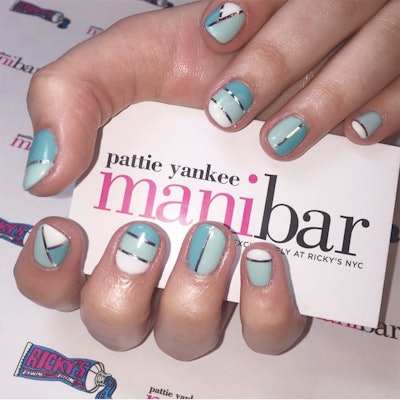 IN-DEMAND SERVICE
Our most popular service is Virtual Nails with gel polish application. A set of Dashing Diva Virtual Nails is applied to the client's nails and a gel polish is applied on top. The service, priced at $60 to $70, gives instant length and perfect shape, and the client's nails are allowed to grow out underneath. My staff is also trained in using an electric file to remove the gel polish, instead of soaking. Most clients get nail art, too, and prices vary depending on the design.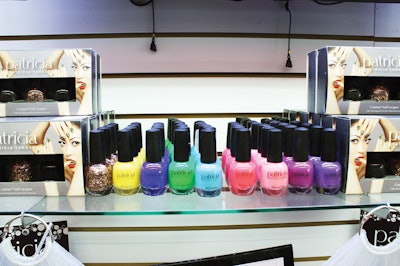 THE GOODS
The only professional polish brand we use is my own polish line Patricia Nail Lacquer. Our clients love the 4-free formula as well as the long wearablity. We also use Dashing Diva products, including charms and jewels, Virtual Nails, Fast Bond, Base and Top Gel, and the LED Light Pod. We retail all of these items as well as my own brand of pre-glued Inspire Nails and custom Virtual Nail sets that are made to order. Retailing is extremely important to the success of Manibar as well as Ricky's. In fact, sales contributes as much to the success of Manibar as the services.
SOCIAL MEDIA
Manibar isn't on social media itself, but Ricky's and I promote the salon through our respective social media channels (see me on Instagram @pattieyankee). Additionally, clients will post pictures of their nails on their Facebook and Instagram pages and spread the word about Manibar. Word of mouth is the best way to establish a solid clientele and social media platforms are basically word of mouth at instant speed.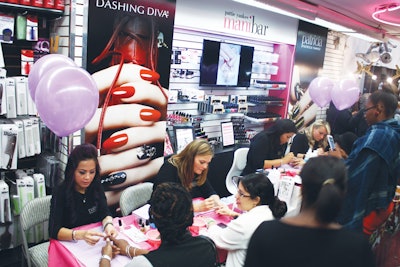 ADVICE
It's a well-known rule of business that 20 percent of your clients supply 80 percent of your income. Before opening a salon, be sure that you have a solid core of clients that will be faithful to your business and keep it afloat as you build. I have a second salon in Long Island, New York, but I consider Manibar a new business. Manibar came about because I was working [as a nail artist] in a lash extension boutique a few doors down from Ricky's. I built a solid core of clients working there and when Ricky's suggested that I open in its SoHo location, it made perfect sense. The clientele I built at the lash extension boutique now come to Manibar and, because I have another tech working with me, they can recommend their friends. My colleague works exactly the same way I do and she can accommodate any referrals that I cannot.
PRAISE
I love hearing "This is the best manicure I have ever had!" and "My nails have never looked this great!"

STATS
Pattie Yankee Manibar
Owner: Pattie Yankee
Year Opened: October 2015
Address: 590 Broadway, New York,
NY, 10012
Phone Number: 646.666.8543
Hours of Operation: Mon. – Sat.,
11 a.m. – 7:30 p.m.
Images: Pattie Yankee