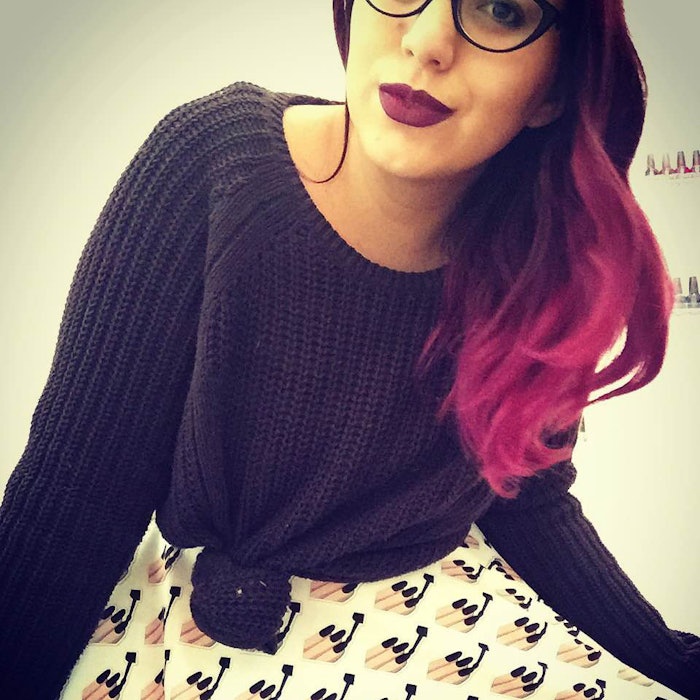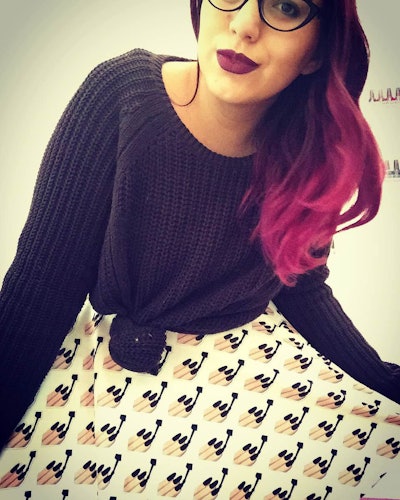 Welcome to NAILPRO's Nailed Down! where we "nail down" nail artists and technicians from our User Galleries and get to know them and their amazing work!
This week we visit Chicago, IL!
Meet Ellegra "Legs" Davis:
Where do you work?
Jewels A Nail Box. I'm the Co-Owner.
How would you describe yourself?
Quirky, colorful and giggly. An artistic girly girl.
How did you get started in the nail industry?
I've been doing nail art on myself since I was a child. I had that book that came with the polishes and told you how to do designs like watermelons and cow print. I've always been painting my nails for as long as I can remember. I went to boarding school for high school and my dorm room was basically a nail salon. I ALWAYS had crazy colors and fun designs on my nails. So when I moved from Los Angeles to Chicago after college and realized there were no fun nail art salons like Los Angeles has, I decided to go to school and bring that adorable nail art to Chicago!
What or who inspires your work?
I love Japanese inspired nail art, I think it's so over the top and adorable. I want it all. Im currently obsessing over @flickanail and her incredible art work, I also love getting inspired by all the other nail artists I follow on Instagram, from Hey Nice Nails to The Polished Pinky. Everyone has a different style and it's so fun to see everyone's work kinda put your own spin on it.
Are there any tools you can't live without?
Presto nail art brush #11, Presto black art gel, French brush, Dashing Diva nail gel glue, and a wax stick to pick up stones!
What is your favorite technique/style?
Blending colors to do stone inspired looks and lots of bling.
What is your craziest/funniest nail story?
Getting my hand glued to a client because nail glue can be really messy!
What tip can you offer other nail technicians?
Be nice, kind, and open. All nail artists started this because we all love nail art, and we want to learn from each other. When I started I had this awesome support system of artists helping me and giving me tips which was so amazing. I try to do the same for others.
You can find Ellegra 'Legs' Davis on the web:
In the NAILPRO User Gallery: nailpro.com/get-inspired/clueless
Her Facebook page: facebook.com/legsonyournails
Her Instagram page: @Nailsbylegs
Jewels A Nail Box's Instagram page: @_jewelsnottools
Click here for more Nailed Down! interviews »
Would you like to be featured in NAILED DOWN? Post images of your nail art to our User Gallery. We'll be highlighting outstanding artists based on those submissions! (minimum six pictures to qualify for consideration) NAILPRO reserves the right to edit submissions for length, grammar and clarity.
Images: Ellegra "Legs" Davis