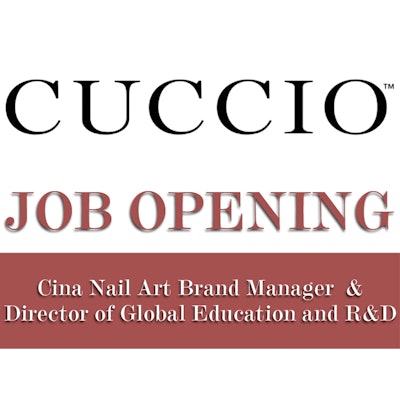 If you're an experienced professional nail tech looking to further your career, check out this once-in-a-lifetime job opening from Cuccio!
Global professional beauty brand, Cuccio International, has initiated a search for a new Cina Nail Art brand manager, as well as, Director of Global Education, Research and Development for all Cuccio brands
If you, or someone you know, are a professional nail technician who lives and breathes nail art, has creative ideas on developing new nail products, enjoys speaking in front of an audience, and has a desire to travel the world then this is the ultimate career opportunity for you.
Cuccio International, one of the worlds largest and most successful professional nail manufacturers, is looking for a motivated individual to fill the role of brand manager for its Cina Nail Art division, as well as Director of Global Education and R&D.
The ideal candidate for brand manager is a self-starter with strong organizational skills. You must be a licensed professional nail technician with a passion for fashion and style trends. As a top priority you will be intricately involved with the sales, marketing, advertising, package design, social media and public relations of Cina Nail Art, one of the fastest growing brands in our company.
In addition to the Cina position you will have the incredible opportunity, as Director of Global Education, to help further expand our growing education program to professional nail technicians around the world. Success and experience working with acrylics, gels, wraps, soak off gels, LED technology and other professional products, will help set you apart from the other candidates for this incredible, once-in-a-lifetime career advancement opportunity.
Finally, you will be asked to work directly with our product development team, marketing department and global distributors to help conceive, develop and market new products for our company from concept to completion.
Passionate. Determined. Focused. Personable. These are some of the traits we are looking for in our ideal candidate. If you feel this is right for you please email your resume to hr@cuccio.com. Please include a short paragraph as to why you feel you are the ideal candidate for this amazing job offering.
Please do not hesitate as we are looking to fill this position immediately.
(Please no phone calls or third party solicitations)