Maybe you've thought about going back to school to earn more at your current job – or you've considered doing medi-pedis to increase your income. Fun fact: taking just a few days of training through the North American School of Podology (NASP) can get you certified to do specialty pedicures that you can charge more for –and which cater to clients with specific needs!
We talked to Vicki Malo of NASP about what you should know:
NAILPRO: What do techs get out of NASP?
Vicki: "Become one of the best pedicurists in the industry!
Learn the latest techniques in pedicuring from highly qualified educators.
Learn how to use specialized tools, implements, bit, and electric files to elevate pedicure procedures.
Learn proper sanitation, disinfection, sterilization procedures to provide safe pedicures and avoid cross-contamination
Learn best practices for pedicuring Diabetic and Senior clients
Learn new techniques in the practical hands on workshop
Learn how to implement the three R's:  Recognize, Recommend, Refer
You also get a return on your investment. Upon successful completion of the NASP Advanced Pedicure class, the attendee is awarded the designation of Certified Master Pedicurist (CMP)® with a diploma for display, which establishes your credibility and sets you apart from other salons and pedicurists. Most CMP's charge between $75 and $100 per pedicure service.  Learn specialty and a `la carte services for additional revenue and tips for saving time."
What are some of the new initiatives and curriculum and how do they better equip a nail tech in today's world?
"In today's saturated pedicure market the pedicurist must create a competitive advantage, which can be established through differentiation.  This follows NASP's objective of Educate~Differentiate~Elevate.  I believe the greatest initiative is the addition of a la carte services and services that no other pedicurist can offer such as the Dr. Lock system of stretches learned in the Art of Touch.  Knowledge is power and the key to establishing credibility with the well-educated clients of today.  With everyone having smartphone with the capability of Googling something at any time, the technician must be educated and able to address their customer's concerns accurately.
"The Art of Touch teaches technicians new massage techniques they can offer their clients who may not be able to have the traditional pedicure massage. NASP also offers private consultations, private in-salon classes, and a two-day business class geared towards the pedicurist in today's market.  Often technicians are so busy doing services they neglect the operations part of the business – today, that cannot be ignored."
 
What do most techs choose to do after NASP?
"NASP graduates often become self-employed so they can offer their standard of quality service. Some stay with their current jobs and increase their service price substantially as well as add in a la carte services.  They are looking to increase their offerings, give a higher standard of service, and partner with medical professionals such as podiatrists."
 
How much more money do techs usually make after NASP?
"Anywhere between $75 and $125 or some even more.  I charge $125 for an hour service."
 
What's one essential thing students will learn at NASP?
"That they did not realize how much they did not know…and how much there is to learn about the feet. They will elevate their pedicure services beyond the traditional basic pedicure – to total pedi-care!"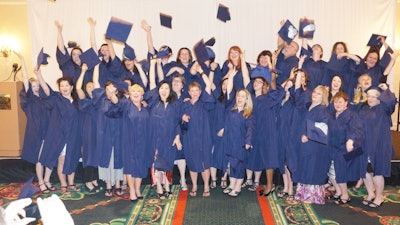 [Images: North American School of Podology/Vicki Malo]