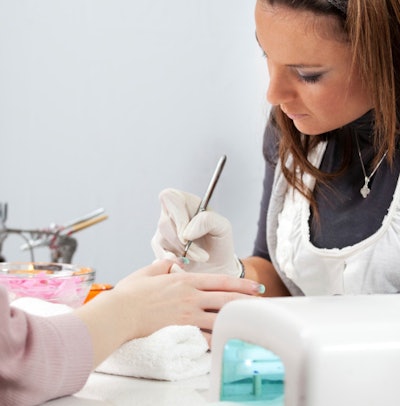 Whether you're thinking about working solo as a necessity or because it sounds like your dream – here are the real world pros, cons, and things you should consider before beginning the venture alone.
Benefits
Every studio owner who was interviewed raved about her wonderful setup, but each had different reasons for loving it.
Control of time. "I love the flexibility in meeting the needs of a particular client," says Karen Hodges, owner, manicurist and esthetician at Morning Glory Nails & Skin Therapy in Key West, Florida. "If I worked with a group, I'd feel that I should stay more uniform in my services. Spur-of-the-moment brow waxes or other added services wouldn't be as easy to provide in a salon that needs all the rooms booked efficiently." Others mentioned that they love "being their own boss" because they can take time off whenever they want. Caralyn Brown, owner and nail technician of 20 Digits Nail Spa in Bartlett, Tennessee adds, "It's great to be able to go on bathroom breaks, lunches and dinners whenever you desire."
Personal preferences. Music selection can be a major problem in salons; most of the studio owners mentioned that they love playing what they want. "My space has the look I prefer and the music I like to listen to, or what my client likes," says Marsha Rubino from Gimme Nails in Kalispell, Montana. Brown adds, "You can also wear an outfit of your own choosing to work that still looks professional."
Control of the work environment. Simmy Bredal-Bell, owner and nail technician of Simmy's Place in Brick, New Jersey, likes that everything has a place in her studio. "I'm a diva when it comes to my space. With my own place, I know that everything will be right where I need it, when I need it; no one moves things around or borrows my equipment. I feel at ease and comfortable here," she says. Hodges agrees, "For the first time in 20 years, I can control my working environment and the environment for my clients. My studio is really my space, and I love that! I know that my things will be clean, tidy and the way I left them; that's important to me."
Peace, quiet and privacy. For many studio owners, the tranquility of having their own space can't be beat. Madden says that she has clients of all ages and personality types, but they all love the serenity of her studio. "There's no chaos here," she says. "I have clients who love my studio specifically because it doesn't have as much going on as the larger spas and salons." Brown also values the privacy. "My clients want to feel they can say anything. They can't do that in salons where there are too many people around," she says.
Negatives
Camaraderie. Several owners said that they do miss the friendships they had while working in a traditional environment. "I have a hard time finding negatives of working alone in a studio, but the lack of companionship would be one," Rubino says.
McLaughlin agrees. "In this setting, there's no chance to interact with other nail techs as far as ideas, suggestions, techniques and products go." McLaughlin remedies this by attending as many shows and distributor classes as possible. She purchases instructional DVDs, uses the Internet for additional information and bounces ideas off other techs on BeautyTech.com. Rubino, though, has companionship right outside her door and takes advantage of it. "I'm in a building that houses lots of beauty service providers, so it's a matter of visiting one of my neighbors if I need something or want to talk," she says.
Spending so much time alone can be a real problem for some nail techs. Angie Wingerter from Pizazz in Festus, Missouri, loved her studio space and the control she had over her environment, but after seven years she became bored. "I needed a change—I lost interest in the industry after being alone all those years," she says. "Now I'm back in a salon renting a station and it has done a lot for my state of mind. It has brought back my interest in nails. I feel like I'm a part of something again and get excited about trying new things now." Though, Wingerter notes, the problems in salons have not changed. The unattended children running around and the noise are still there.
Managing the telephone. Answering calls may be a task that's difficult to juggle by yourself, but all of these studio owners have handled it with ease. "My clients know I work alone and just leave a message for me to call back if I can't answer the phone," Madden says. Several owners deal with calls the same way. McCormick forwards her studio telephone to her cell phone when she is away and stores her appointments on a PDA so she can handle them anywhere. "I've taken appointments in some really strange places," she says.
Overhead. The studio owner has no help with handling book work, inventory and other administrative tasks, and it could be a drag on her business. Most of the studio owners we talked to, however, had been in booth-rental situations before, so these responsibilities have long been a part of their lives. None of them said that it was a big deal, but they added that a new studio owner could feel a bit lost if she had no experience with it before.
Independence
Overall, those in a studio setting seem to be pleased with their decision to go it alone despite the fact that it wasn't their ultimate career goal from the get-go. For several, it was a situation they were forced into, but for others, it was an opportunity they jumped on. No matter the circumstances, it worked out great for everyone. For most studio owners, independence is too valuable to give up.
[Image: Thinkstock]