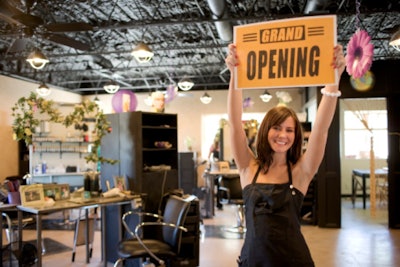 Thinking about opening your own salon? Here are some essential tips to get you started!
1.Advertise "New Business" discounts, like 25% off your services, to encourage new clients to come in. If you want to practice a new design, offer it for free or for a lesser price than other designs.  
2.Have a short and effective name for your salon, so clients can look up your salon easily and have an immediate understanding of your services. Be sure it is straightforward to spell, is not similar in name to many other salons, and empowers your brand. Some good examples include Well Manicured, Dashing Diva, and The Painted Nail. 
3.Stay Ahead of the Curve with new colors and products. This will entice your clients to keep coming back to be up-to-date on the latest trends.
4.Showcase your designs in your salon. Have photos of your best designs playing on a video picture frame to advertise your talents to clients while they are having their nails done.  
5.Jump in! You don't have to know all there is to know right now; you will hone skills and develop your own methods along the way. The only way to succeed is to go for it!
[Image: Thinkstock/Creatas]