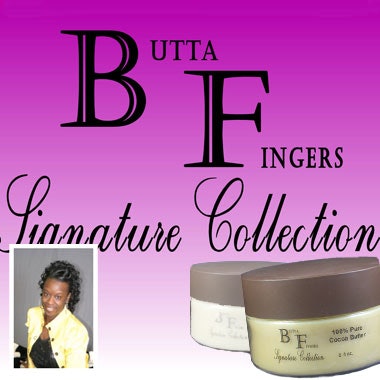 I developed a line of professional products in December 2010, and it's named after my salon Butta Fingers Nail Studio. I decided to develop this professional product line because I felt there was a big need for products for nail techs by nail techs, and who knows better what nail techs need than other nail techs? I am not downplaying products made by other manufacturers, but I believe there is nothing better than a product line with nail techs behind it.

To be completely honest, it takes a lot of time, energy and research to create a good line of products. I started by doing research in the industry as well as talking with other nail techs about what kinds of products they were looking for. I also surveyed my clients about products they use in between appointments for maintenance. Once I figured out what product I wanted to carry, I started to research ingredients, what results you receive from different ingredients and how they interact with each other. I have always been allergic and very sensitive to products, as have some of my clients, so I decided to use only the most natural products available.

After completing my research, I went to work formulating the perfect, resulting in the Butta Fingers Signature Collection:

• Moisturizing Body Butter Our Moisturizing Body Butter is specially formulated to create immediate and long lasting softness to dry skin, containing essential oils that help nourish and hydrate the skin.
• Foot & Heel Therapy If you have dry heels and feet, you will be impressed with the ability of our Foot & Heel Therapy to hydrate and seal in the moisture to soften even the driest feet.
• Shea Butter Our 100% pure shea butter has the smooth, thick texture of butter. It simply melts upon contact with the skin. This formulation features the most effective ingredients for smooth, supple skin.
• Foaming Hand Soap Our Moisturizing Foaming Hand Soap is enriched with emollients and moisturizers to be gentle on the skin. The Hand Soap is a moisturizing skin cleanser that provides excellent cleansing, full lather and easily rinses off. It also contains shea butter and aloe vera for gentle cleansing and moisturizing.
• Hand Sanitizer Our moisturizing instant hand sanitizer is clinically proven to kill 99.9% of germs. Guaranteed not to dry skin, it is pure and gentle enough for frequent cleansing when soap and water are not available.
• Cuticle Therapy Treatment Soothes even the driest cuticles on contact and continues to moisturize even through repeated hand washings for all-day softness. The quick-absorbing forumla relieves dry, chapped cuticles, helps prevent broken nails by strengthening cuticles, and is formulated with vitamin E.
For more information on the Butta Fingers Signature Collections line, log on to buttafingersnailstudio.com.
Stephanie Saddler is the owner/creator of Butta Fingers Signature Collections and owner of the Butta Fingers Nail Studio in Euclid, Ohio.