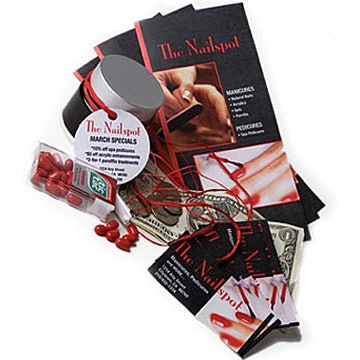 We all know that advertising is an important way to attract potential clients and show off your fabulous salon. But what kind of advertising will be the most affordable and effective for your business? One of the first advertising steps you should take is creating a brochure. A brochure should include basic information, such as pricing and services, but it should also provide a visual of the theme, ambiance and décor of the salon. Customers are often attracted to something different and exotic, so if your salon has a special theme and a fun interior, you should definitely include a few pictures in the brochure to show it off. A well-done brochure will serve as an information tool to potential clients but also be a peak into what makes your salon unique and special.

Brochures are usually broken into six panels. We explain what information you should include in each panel.

Panel 1 is the cover of your brochure and the first thing that people notice. Make sure you put the name of your business in large and easy to read letters, an eye-catching photo and a catchy phrase that fits with what you are trying to sell.
Panels 2, 3 and 4 include the services that you offer and often their benefits. You should break them down in to specifics such as types of manicures, pedicures, etc. with pricing. Also include any special offers (including kids and seniors if applicable), discounts and other exclusive services that you provide. You might choose to include one or two interesting pictures of the interior of your salon to show off the pleasant atmosphere of your business.
Panel 5 includes personal information about the business, such as history and what makes your salon unique and different. Here you want to summarize why clients want to visit your salon.
Panel 6 includes the location information: address, phone numbers, and business hours.

Do-It-Yourself
Creating a brochure doesn't have to be a costly project. You can make a quick and easy brochure using the computer program Microsoft Word. Break your page into three columns (panels) and input the appropriate information into each column. Make sure to include headings to separate different types of information. Also, get creative and pick a font that works with the theme you are going for. But be sure it's legible and reproduces well. Remember, while you're trying to include enough information to provide a good introduction to your services, don't try to fill all the spaces with text. After all, it should be attractive and easy to read! Using the Format feature function in the program you can also easily insert pictures. When you are done with the creative portion, simply print it out, fold along the columns and admire your work!

Written by Julia Sheveleva