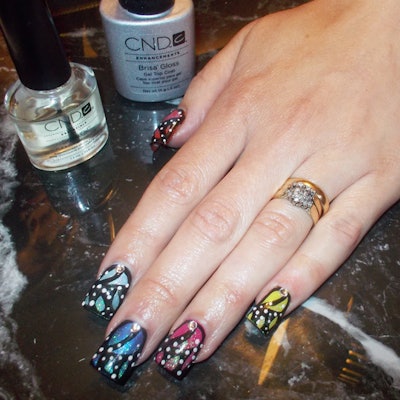 Let your designs fly right off the nail with this monarch butterfly look! Mix the power of a nail stamper and bright colors to bring this look from tech Deanne Power to life.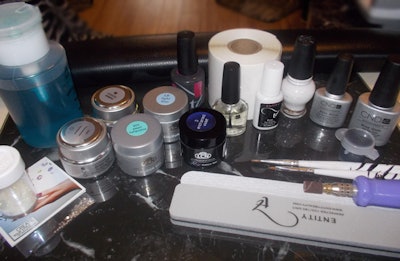 Supplies needed:
Brisa Bond Aid
Brisa CND Sculpting Forms
Brisa Clear Sculpting Gel
CND Scrub Fresh
Brisa Yellow
LCN Enchanted Violet
LCN Pearl Turquoise
LCN Light Blue
Entity Hot Pink
white glitter
black acrylic paint
Konad white stamping polish
jewels and nail glue
180-file
soft buffer
nail drill
nail art brushes
nail wipes
CND Solar Oil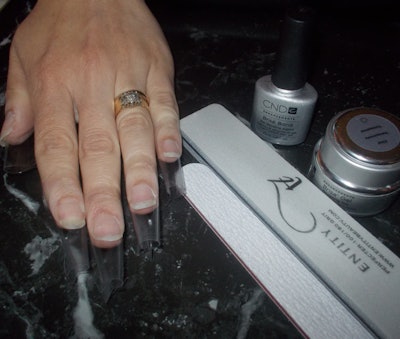 Step 1: Prep the natural nail, apply Bond Aid, and cure for 10 seconds. Apply sculpting forms and enhance the nail length with clear sculpting gel. Then cure fully for two minutes.
Step 2: Remove forms, then remove gel residue with scrub fresh, and shape the nails to the desired length and style.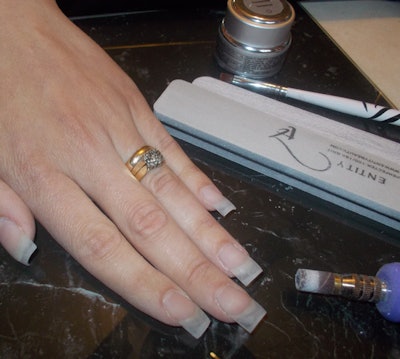 Step 3: Using the nail drill, powered on a low speed setting, redefine the C-curve.
Step 4: With the nails created and shaped, begin with the first layer of clear sculpting gel; fully cure for two minutes.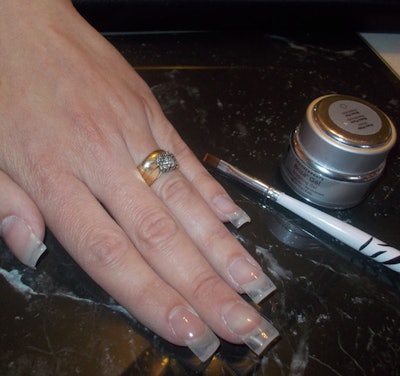 Step 5:  Apply colors of choice; cure for two minutes.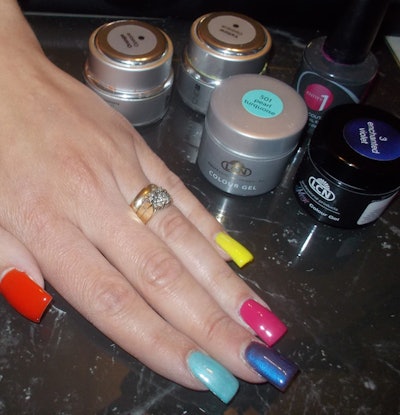 Step 6: Apply white glitter and/or glitter(s) of preference, to create an underlying highlight effect. Press them into place, apply clear gel; fully cure for two minutes.
Step 7: Remove gel residue with Scrub Fresh, and complete the final shaping and buffing.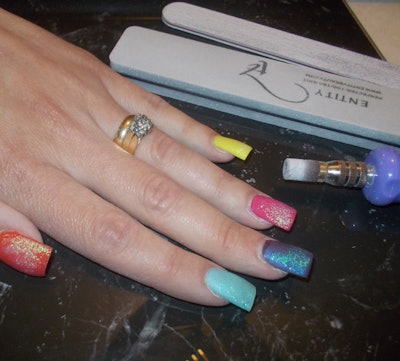 Step 8: Cleanse each nail thoroughly for the prep and application of acrylic paint.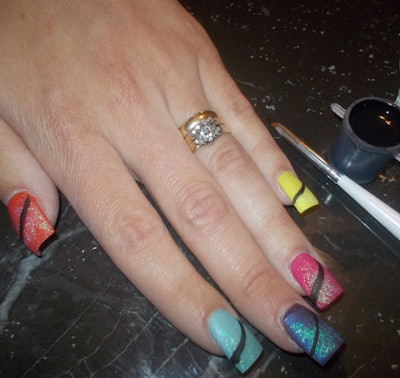 Step 9: Using black acrylic paint and a fine-tip nail art brush, draw a diagonal-curved line, from the lower outside corner, to the upper, mid-tip of each nail. Acrylic paint dries almost instantly and gives an excellent result for freehand nail art.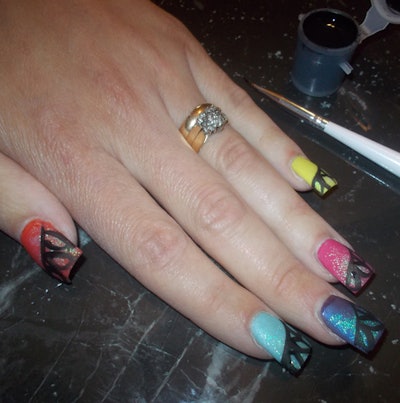 Step 10: Following the curved line, draw three flower shaped petals, leaving a little space between each. Three teardrop shapes will also have the same effect.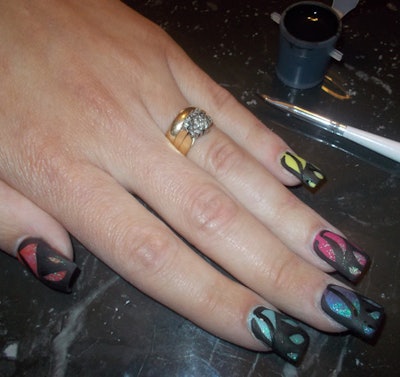 Step 11: With the black paint, cover in the space between each shape, as well as across the top edge of the nail. Draw a continual line down both sides of the nail, closing in at the lunula. Create a slight curve for each line. Then from the outer sidewall line, draw a connecting arched line from the bottom, the top of the first initial painted line.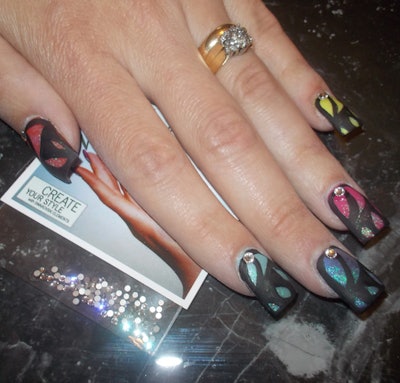 Step 12: Apply a small amount of nail glue to the bottom base of each nail, add jewels of choice, creating a sparkled close for each wing.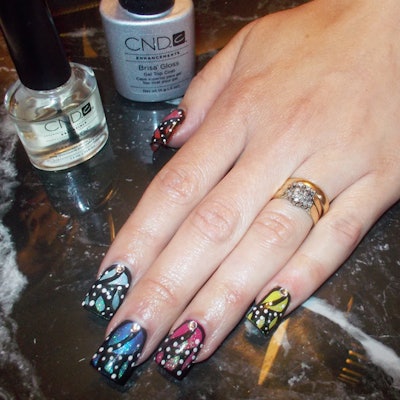 Step 13: Using a dotting tool and Konad white stamping polish and/or acrylic paint, add random sized dots over the design, creating a beautiful life-like impression of a monarch butterfly wing. Allow a minute to fully dry, apply gel top coat and cure for two minutes. Finish by conditioning the nail and cuticle with CND Solar Oil. With bright colors, sparkle and beauty, these monarch butterflies are ready for summer!
[Images: Deanne Power]