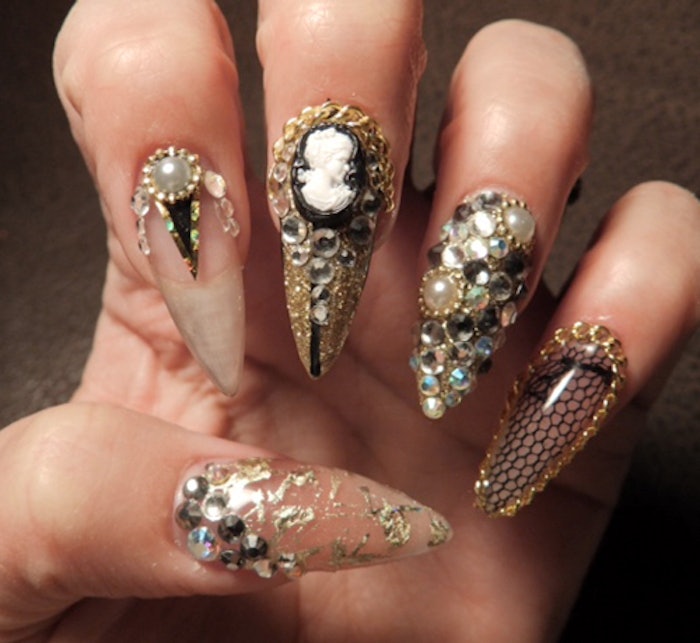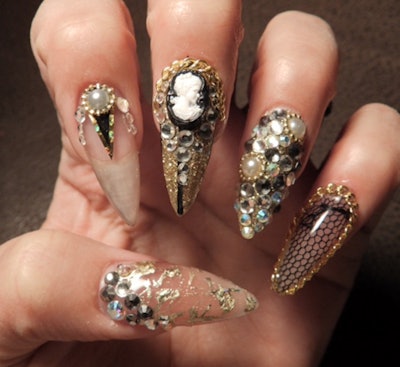 Take your nail designs over the top! Manicurist Tammie Alvarado shows how to do this stiletto manicure.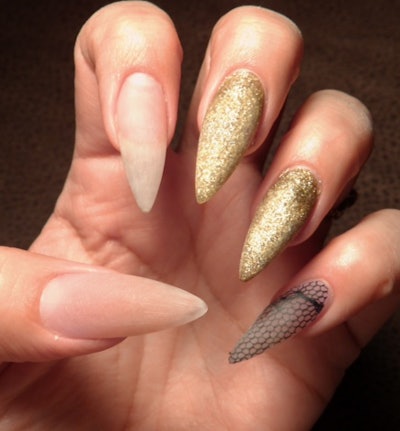 Products needed:
OPI Absolute Liquid
OPI Crystal Clear
OPI Makeover Pink
Fine Gold glitter dust
Black acrylic paint
IBD clear strong builder gel
Black lace
Swarovski crystals in: crystal, smokey quarts, Hittite, sizes 5ss, 9ss, 10ss
Half pearl in 4mm
Gold curb chain
Gold ball chain
Gold transfer foil
Gold striping tape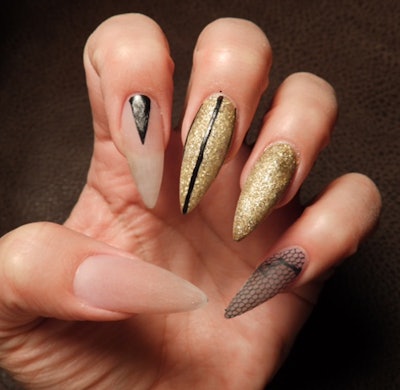 Step 1: Use Makeover Pink on thumb, clear acrylic on index finger, fine gold glitter mixed with clear acrylic on middle finger and ring finger. For the pinky, I encapsulated black lace using clear acrylic. Draw a black upside down triangle on the index finger.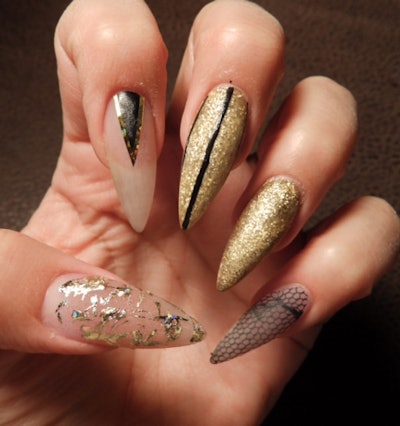 Step 2: Once dry, line the outside of the triangle using gold striping tape. Now using IBD clear gel, coat entire nail, covering the art you just drew all the way over to the free edge. Now add the half pearl on top of the uncured gel. Line pearl with ball chain and two 10ss clear crystal and four 5ss clear crystals.
On the middle finger, use black acrylic paint to draw three thin lines: one directly down the center of the middle finger, and two more thin lines on both sides of the nail.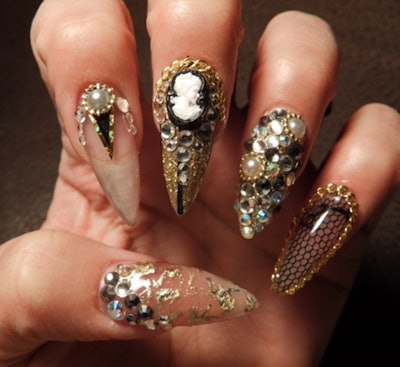 Step 3: Coat the nail with gel once the paint is dry. Add gold curb chain along top of the nail; then add cameo and clear crystals alongside the cameo and down the center of the nail.
Quick cure once crystals are in place for 20 seconds. This is so they don't shift before moving onto the next nail. Coat ring finger with gel, randomly placed crystals, half pearls and ball chain.
Now the pinky! Cut your chain to length. Coat your pinky in a thin layer of gel. Quick cure. Dip chain in gel and place it framing the pinky. Now put your fingers under your UV light for a full cure.


Step 4: Now the last nail. Place some random smears of foil glue. Wait until it becomes translucent then add your transfer foil over top. To finish the thumb, coat nail with gel, then add crystals in the top-outer corner of the thumb. Full cure. All done!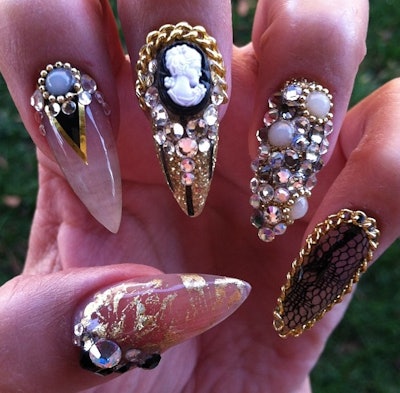 Check out more of Tammie's work on Instagram: @tntalvarado316
[Courtesy of Tammie Alvarado, MUA & Manicurist]