Courtesy of Paintbox
The iconic NY-based nail studio and brand Paintbox has launched their first-ever collection of press-on nails.
Founded in 2014 by veteran fashion magazine editor Eleanor Langston, Paintbox is known for its color theory, sophisticated aesthetic, and highly curated iconic nail art designs, taking its cues and inspiration from the runway and the modern New York woman. The Paintbox Lookbook of proprietary designs has been a veteran of several fashion and lifestyle brands since its founding and the company's New York Upper East Side studio was recently featured with Sarah Jessica Parker on "And Just Like That." 
During this year's NYFW, Paintbox will introduce its biggest innovation in the last ten years – the brand's take on a transformational press-on that it describes as "Ready-to-Wear nail art." Models at some of the hottest shows will be wearing the limited edition NYFW launch line of Paintbox press-ons while they walk the runway.
"Our limited Fall 2023 NYFW launch collection of five press-on looks takes Paintbox and the nail press-on industry to a new level. Unsatisfied with the current DIY nail care offerings on the market, we sought to transform the category with a product that gives women the greatest convenience and confidence," Langston shares. "Our research led us to create a press-on that has the most flattering shape (natural-looking almond), the chicest length (elongating-but-functional medium) and the very best fit (half-sizes to fit all fingertips) and that is near foolproof in its application including the option of quick change with super gel tabs."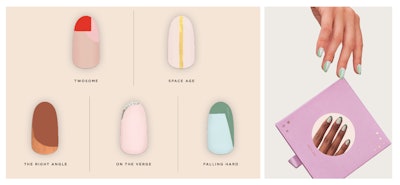 The new Paintbox Press Ons will be available in five unique designs to help you accessorize every outfit, for every occasion. Each box contains 16 sizes per hand, including half sizes to ensure the right fit, and two application methods provided: gel tabs or brush-on glue for short-term and longer wear (respectively). It contains all the tools you need for a flawless, long-lasting and salon-quality manicure, including a buffer, cuticle stick, nail file, gel tabs and brush-on glue.
Use the gel tabs for wearing and removing with ease—perfect for occasions or nights out. For longer wear, opt for the glue or a combination of glue + gel tabs. You'll have perfect nails in less than 15 minutes, without having to compromise on quality.
Paintbox Press Ons are now available in designs TWOSOME, SPACE AGE, THE RIGHT ANGLE, ON THE VERGE and FALLING HARD.