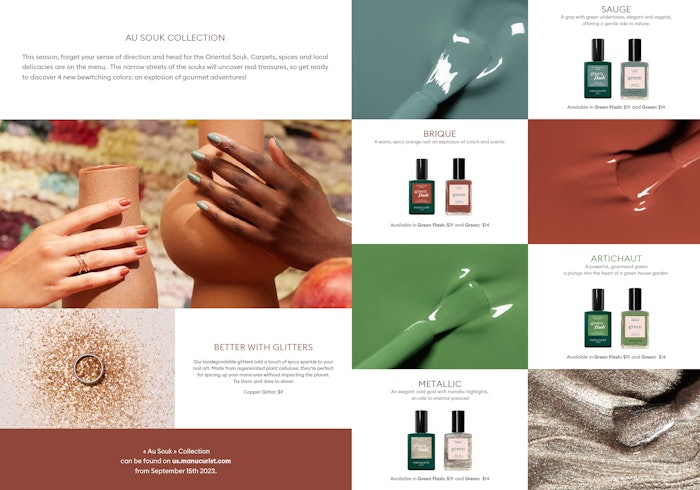 Courtesy of Manucurist Paris
Prepare to embark on an exotic nail journey with Manucurist Paris' latest nail polish collection – Au Souk.
This fall, take your senses on a whirlwind adventure through the bustling Oriental Souk, where carpets, spices and local delicacies await. The collection features four new polishes: 
SAUGE: Embrace the elegance of nature with this gray beauty adorned with green undertones. It's a subtle and soothing ode to the natural world.
BRIQUE: Ignite your senses with this warm, spicy orange-red shade. It's a burst of vibrant colors and scents, perfectly capturing the essence of the Oriental Souk.
ARTICHAUT: Immerse yourself in the lush greens of a garden with this powerful, gourmand green shade.
METALLIC: Sparkle and shine with this cool, glittering gold that is an ode to 60s boho chic and shimmering oriental palaces. 
The collection also includes copper glitters made from regenerated plant cellulose. 
All of the colors are available now on Manucurist Paris' website.