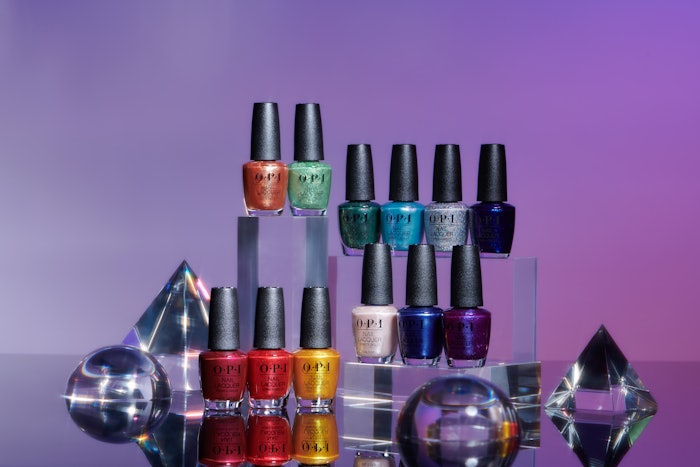 Courtesy of OPI
With enchanting shades that are off the charts, the new OPI Big Zodiac Energy Collection for Fall 2023 offers a colorscope of hues channeling earth, air, fire and water tones. 
Featuring a palette of 12 elemental hues with one-of-a-kind pearls, celestial shimmers and even a holographic effect, these multidimensional shades will make nails glisten from hand to toe.
Mesmerizing sage, mint and gold capture Earth signs' tranquil nature, while water signs make a splash with a dreamy baby blue, cobalt and holographic silver. Fire signs light the way with a fierce red, burgundy and gold, while air signs give off pearlescent white, navy blue and violet.
"We look to the sky and stars for information, for clues to who we are and where we're going. But, there's no need to look above for answers this time," declares OPI Co-Founder and Brand Ambassador Suzi Weiss-Fischmann. "OPI has seen into the future, and Big Zodiac Energy channels all the hottest colors for the season, from jewel tones with incredible depth to pearlescent hues with a contemporary edge."
"Each shade represents an individual zodiac sign, and consumers can choose the colors that match their sun, moon and rising signs, or mix and match shades to create other looks with more ruling planets and signs in their birth chart," adds OPI Global Director of Color Equity Jill Bartoshevich. "The season's top trend shade Scorpio Seduction is a shimmering cobalt blue that's bold and has hidden depths, just like its namesake sign."
OPI has partnered with astrology app Sanctuary to develop horoscopes for each shade in the Big Zodiac Energy Collection. Astrologically, each color has a different meaning. Each zodiac sign is associated with a specific color that reflects its personality traits and energies. Consumers can choose a shade based on the zodiac season or their personal connection to the cosmos. In support of the Big Zodiac Energy collection, Sanctuary's color horoscopes will be paired with custom content on their social media channels to help consumers connect to the shades that speak to the season or their stars.
Big Zodiac Energy Collection shades will be available in GelColor, Infinite Shine and Nail Lacquer and Powder Perfection* (select shades only) formulas, including:
#Virgoals: a bronze pearl that's nothin' but perfection 
Taurus-t Me*: a mint green shimmer that's the most loyal 
Feelin' Capricorn-y*: a sage green that will bring the wit 
Pisces the Future: a light blue pearl that's totally psychic 
I Cancer-taintly Shine: a holographic silver that's giving intuition 
Scorpio Seduction*: a cobalt pearl that is mysterious AF 
Kiss My Aries*: a fiery red shimmer that doesn't hold back 
Big Sagittarius Energy: a burgundy pearl that's pure fire 
The Leo-nly One: a bold gold pearl that's the center of attention 
Gemini and I*: a soft white shimmer that has mani sides 
Aquarius Renegade: a navy blue pearl that doesn't follow the rules
Feelin' Libra-ted: a shimmery violet that's beyond balanced 
GelColor provides a salon-perfect finish with up to three-week wear, while Infinite Shine offers a high shine finish and traditional lacquer application. Nail Lacquer features a highly-pigmented, rich formula for even application without streaking. Powder Perfection, a dipping powder system delivering a quick, no-light curing application, offers more than two weeks of wear.
Beginning August 1, 2023, Big Zodiac Energy Collection Nail Lacquers will be available at professional salons, as well as OPI.com, ULTA, ulta.com and Amazon Beauty via Amazon.com. GelColor is in-salon professional service only.