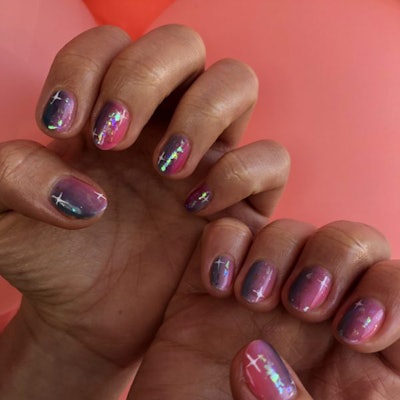 Color Camp nail artist Carla creates an iridescent unicorn nail look using Bio Sculpture Gel. Here, we show you how to recreate this look step by step.
step 1
Apply gel base coat, and cure. Then apply one coat of iridescent gel, here we used Bio Sculpture. Cure.
step 2
Blend two jelly shades with a square brush.
step 3
Use a square brush to apply two coats of your custom jelly blend on each nail. Cure between coats.
step 4
Apply iridescent unicorn flakes onto the tacky layer of each nail. Here, we focused mostly on the vertical center of the nail beds.
step 5
Use a detail brush and white art gel to hand paint white sparkles on each nail. Depending on each nail size, the number and placement of sparkles will differ. Cure. Finish with a high-shine top coat, and cure.
—by Angelina Lewis
[Music: Courtesy Bensound]