With hands so attached to cell phones these days, what better way to show off dazzling digits than with clever cases?
Rainbow Bright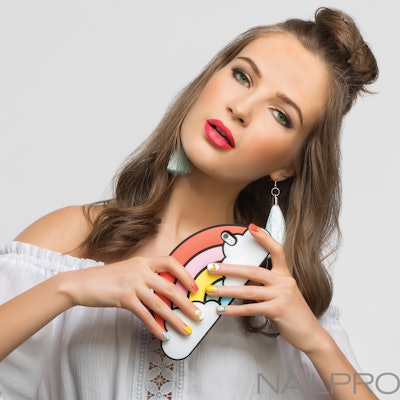 The rainbow of colors showcased in the summer collections may seem overwhelming. But there's no reason to settle on just one; choose a few favorites—one for each digit—and tie them together with watercolor-printed decals.
Earrings: Claire's; Top: Joie.
Text Appeal
Skip the sticky fingers that come with real summertime treats by creating the illusion of dripping ice cream on tips. Here, nail artist Reina Santos used nail vinyls to create brown "chocolaty" drips. Then she added dimension and highlights with a dotting of light brown and white polish. Jacket: H&M; Top: Zara; Rings: Zoe Chico.
Snap To It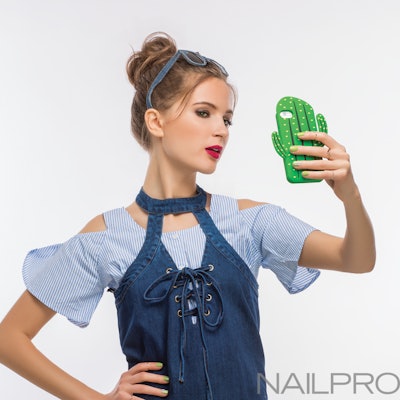 Killer polish and a hint of art is all you need for Instagram-worthy nailfies. Santos accented this cactus green manicure with simple white lines to mimic the plant's spikes and a simple Femo flower adhered with resin for super staying power. Dress: Diesel; Top: Forever 21; Glasses: Ray-Ban; Rings: Zoe Chico.
Sweet Surrender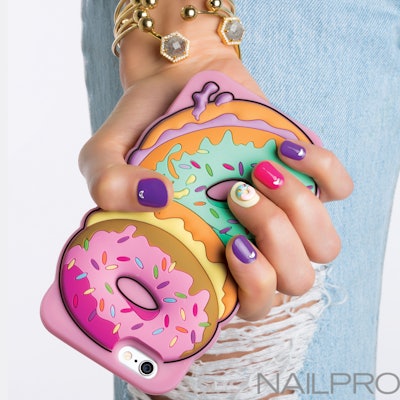 Nail photos are almost as popular as food photography on social media. Simply combine the two by pairing sweet swatches of lacquer and whimsical charms! Bracelets: Bauble Bar.
– Stephanie Yaggy Lavery 
Nails: Reina Santos, Makeup: Johny Saade, Hair: Christophe Saluzzo, Stylist: Jordan Grossman, Assistant Stylist: Kelsee Palmer Model: Rena at Hollywood Model Management, Digital Retouching Art Vasquez, RP Digital
[Images: Photography by Cory Sorensen]