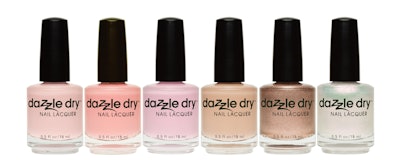 As the flowers begin to blossom, spring brings in the sense of rebirth. Enter into the new season with a fresh start using Dazzle Dry's latest collection, Namaste. The Spring 2017 collection celebrates hope, dreams and the balanced wellness of mind, body and soul.
With two light pink opaque creams, two fresh nudes and, with a twist on spring trends including two holographic shimmers, these shades will trigger an intuitive design power. Layer these shades on top of each other, or let them stand alone, it's safe to say these shades are perfect for any client.
With Dazzle Dry, which is 100% vegan, you'll also be able to provide quick services due to its system that allows the lacquer to dry in minutes, leaving a gel-like wearability without the need of a UV/LED lamp.

Included in the collection:
Livin' La Vida Yoga – Pale ballet pink
Ready Set Pose – Petal pink
Yoga Mama – Soft bubble gum pink
Inhale Exhale – Nude cream
OhmmMG! – Shimmering nude
Spiritual Diva – Shimmering mint green
What do you think of the Namaste Collection from Dazzle Dry? Let us know in the comments below!
This story was originally published on Nailitmag.com.
[Image: Courtesy of Dazzle Dry]