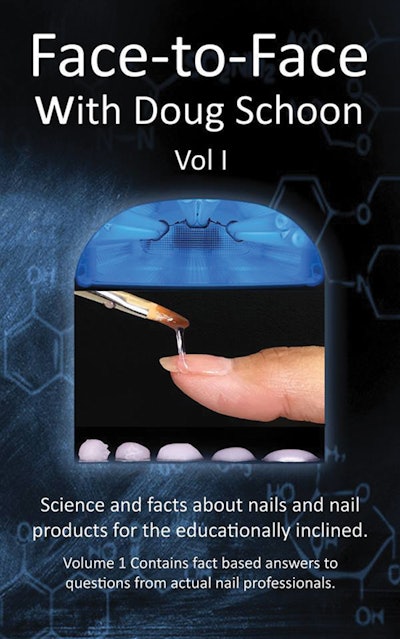 Looking to deepen your understanding of the science behind the nail enhancements you use? Then you'll want to check out the newly released first volume in the Face-to-Face with Doug Schoon series, which is based on the first 50 episodes of the internet video series of the same name.
"Like the videos, the book contains information that every nail professional needs to work wisely and safely, save time and money, and prevent or solve problems more easily," says scientist, educator and beauty industry authority Schoon, who is based in Dana Point, California.
Available in both paperback and e-book formats, Volume 1 focuses on Artificial Nails and Nail Coatings, addressing questions ranging from how nail dehydrators improve adhesion of nail coatings to proper curing of UV nail gels. As a special bonus for "Face-to-Face with Doug Schoon" subscribers, the e-book allows readers to click on a question and immediately access the corresponding online video with even more information presented by Schoon himself.
A second volume focusing on Natural Nail Structure, Services and Products is planned for March. To learn more, visit facetofacewithdougschoon.com.
[Images: Courtesy of Doug Schoon]
This story was originally published in the February 2017 issue of NAILPRO.