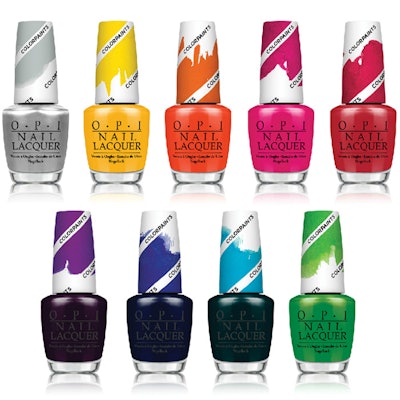 The big new thing that's about to change your whole summer? OPI ColorPaints. And no, this isn't just another set of brightly colored nail lacquers. ColorPaints are semi-translucent blendable lacquers that encourage you to mix and layer colors for cool multi-dimensional effects.
Different that the OPI Sheer Tints (which were very lightly pigmented top coats), these are a little more opaque – like a semi-transparent crème. The full set includes a silver metallic hue which can be laid down under any ColorPaints color to instantly transform it from a sheer solid color to a neon metallic.  Or try laying down your silver base and then adding stripes of each color at random over top.
The possibilities are endless – and these may just be even more fun combined with Sheer Tints, traditional OPI lacquer, and glitter.
These lovelies arrive in stores May 1 – so let the nail art games begin then!
[Images: OPI]