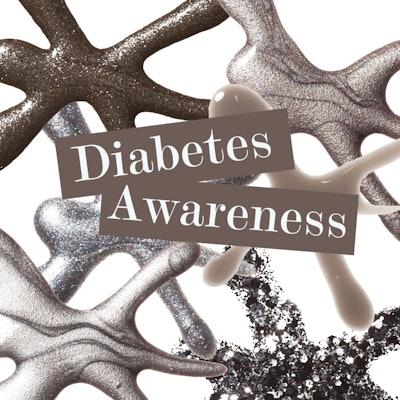 November is Diabetes Awareness month – use it to raise money for diabetes prevention research and to mix things up in your salon. The Diabetes Awareness ribbon is gray, but that doesn't mean you have to keep things subtle. For any clients who opt for metallic chrome, grey, or silver glitter this month, donate a percentage of your sales towards the cause. Here are a few pretty polishes to give you ideas.
CND Vinylux in Night Glimmer lasts longer than traditional polish, so this sparkly gunmetal lasts and lasts!?

Omega Labs USA Silver Holiday Glitter is a foggy shimmer with holographic flecks tossed in.

Cinapro Black Licorice Nail Sugar has big mirror-like pieces plus spots of black glitter.
This new chrome from the OPI Gwen Stefani holiday set is called Unfrost My Heart.
For a warm pewter, go with Wet Paint Moonstone.

Get dark metallic tips with ProGel Nirvana Nights from SuperNail.