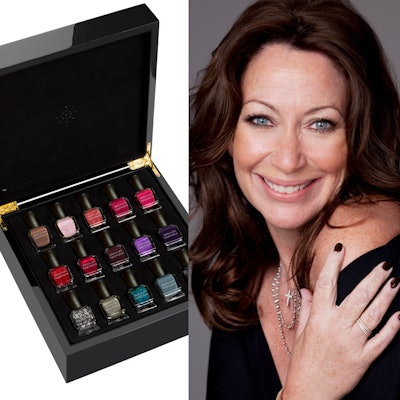 At Barneys New York in Beverly Hills, Deborah Lippmann recently celebrated her fifteenth year of being in the lacquer business by showing off her Until Your Dreams Come True polish-filled music box set and having one-on-one consultations with clients to prescribe them a personalized manicure regimen for their individual nails' needs.
In the anniversary music box collection, every one of the fifteen shades helps narrate the story from her brand's hopeful beginnings to today. A purple hue named 1999 (after the Prince song) represents the year the line launched, and a glitter dubbed Daydream Believer characterizes Lippmann's entrepreneurial side. A silver sparkle called Hey Jude stands for Lippmann's husband, Jude, who has been by her side through the ups and downs of the business.
When the lid of the box is opened, a sixty-second song that Lippmann wrote and recorded herself plays, entitled "Until Your Dreams Come True" (hence, the name of the box). The whimsical melody represents the windy road Lippmann encountered from struggling to pay the bills as a nightclub jazz singer to her widespread success today as a fashion manicurist and luxury lacquer creator.
[Images: Deborah Lippmann/Siren PR; Mark Schafer]