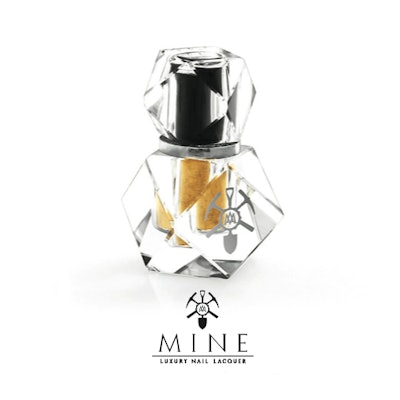 You've tried the gold leaf top coats, the shiny nail wraps, the metallic rhinestones. No stone seems to go unturned when it comes to creating rich, illustrious nails – and in this case, those stones happen to be pure 22- to 24- karat gold, silver, and graphite.
Goldsmith, enamellist, and artist Veleta Vancza has developed MINE Luxury Nail Lacquer, playing off of the act of "mining" and the desire for the lacquer to be all "mine." MINE is an all-new brand of handmade nail polishes created only with natural minerals – no filler pigment added. So their luxurious 24K Gold Lacquer isn't just a gold colored polish with a few flakes thrown in. Each is pigmented by the gold (or silver, or graphite) itself, creating one of the most luxurious products on the market. This also means they are 5-free, as they are void of the harsh chemicals some brands rely on. Of course, there is a price to pay for this extravagance – and that happens to be $100-$500 a bottle, with the opaque gold lacquers being on the high end of the spectrum.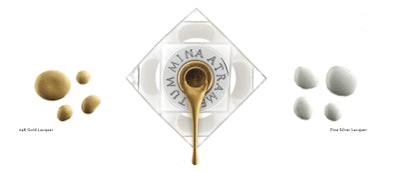 MINE also has tinted bases that can be worn underneath a gold or silver top coat to give them unique tints. The colored base coats are fortified with pearl and diamond powder for strong, long-lasting polish, and retail for around $75 each.
If you're looking to give clients the ultimate pampering session, or just want to window shop, the brand just launched their website for you to take a look at minelacquer.com.
If you are near Rehoboth Beach, DE, check out their launch party on December 7 at the Heidi Lowe Gallery.
[Images: MINE Luxury Nail Lacquer]