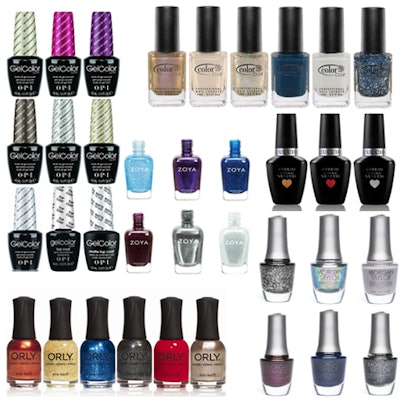 It's time to start glamming up tips for the holidays! Whether your clients are looking for the traditional reds, shimmers, or some unexpected pastels for the season, keep your polish rack full of these hottest new colors.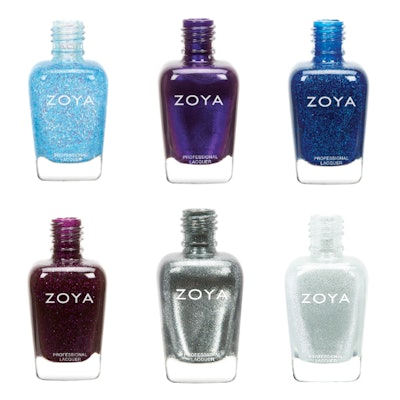 A rich array of shimmers and glitters, the Zoya Zenith collection is the epitome of winter! The light blue Mosheen looks like an infusion of ice and snow, and can be layered over a darker blue for a cool look!
The lineup: Mosheen, Belinda, Dream, Cassedy, Payton, and Seraphina.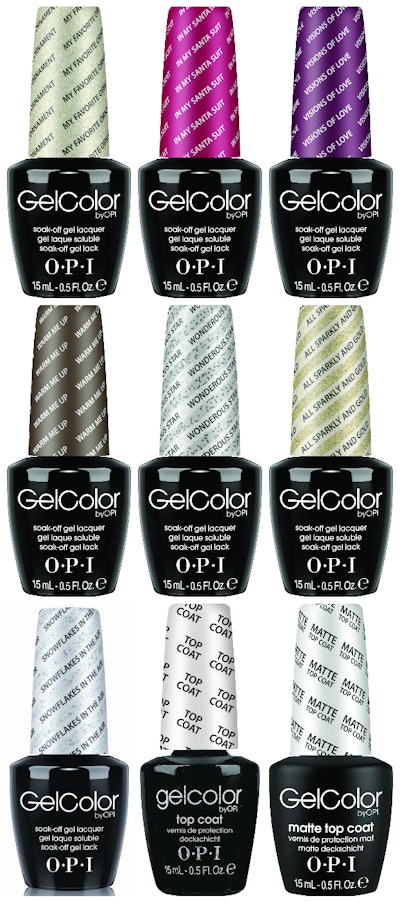 Upgrade your entire OPI collection to Gel Color! The newest shades of this season are now also available in gel polish, so those favorite Mariah Carey hues will last much longer!
The lineup: My Favorite Ornament, In My Santa Suit, Visions Of Love, Warm Me Up, Wonderous Star, All Sparkly And Gold, Snowflakes In The Air, Top Coat, and Matte Top Coat.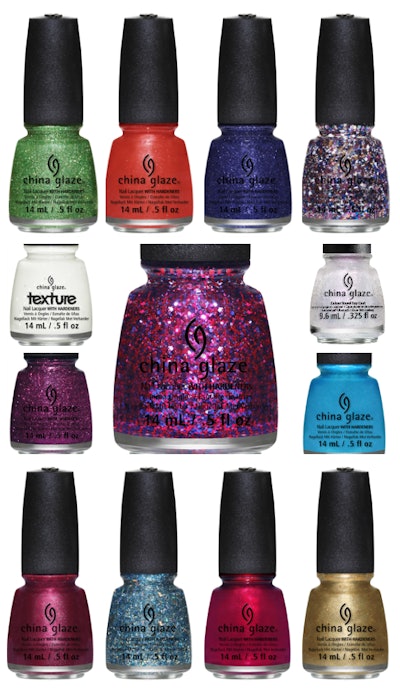 The huge China Glaze Happy HoliGlaze collection comes with essentially every color a girl could want to wear for her holiday occasions, including two special effects polishes: a limited edition white Texture with matte glitter, and Travel in Colour, a shimmery iridescent top coat!
The lineup: This is Tree-mendous, Elfin' Around, All Wrapped Up, Your Present Required, There's Snow One Like You, Be Merry, Be Bright, Travel In Colour, Put A Bow On It, So Blue Without You, Santa Red My List, Bells Will Be Blinging, Just Be-Claws, and Mingle With Kringle.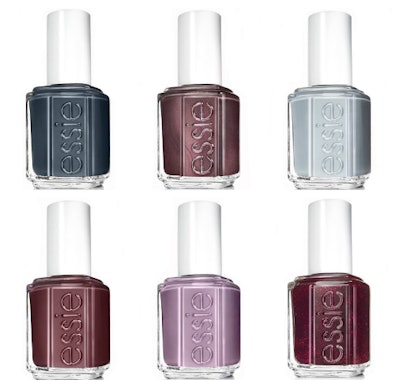 The Essie Winter 2013 set is cozy, containing a sparkling red and other hues that remind us of our favorite sweaters. The collection contains a surprising mix of light and cool colors that are exactly what clients will be looking for this season, as well as next.
The lineup: Toggle To The Top, Shearling Darling, Warm & Toasty Turtleneck, Sable Collar, Parka Perfect, and Mind Your Mittens.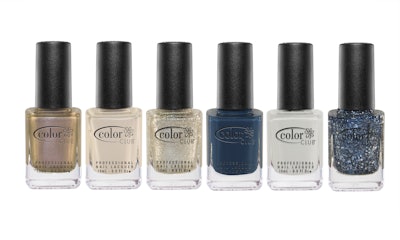 Color Club Harlem Lights contains six gleaming winter-ready shades, including a champagne (for all those toasts at family gatherings), as well as a "frozen" blue and white flake polish.
The lineup: Sugar Rays, Poetic Hues, Apollo Star, Baldwin Blues, Lady Holiday, and Savoy Nights.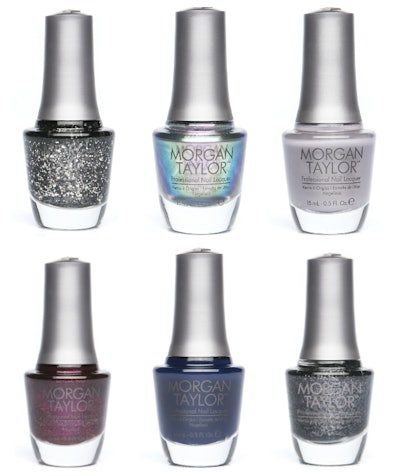 Have clients with a taste for designer? The sophisticated tones of Morgan Taylor Glam Rock will suit them perfectly, like muted lavender, deep navy, and iridescent futuristic silver.
The lineup: Better in Leather, Little Misfit, Pretty Wild, Rebel With A Cause, Polished Up Punk, and Studs And Stilettos.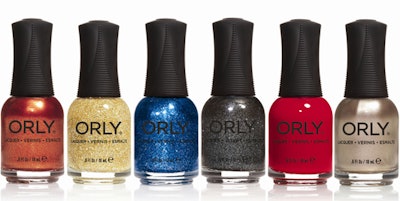 Focused on metals and rich jewels, Orly Secret Society is all about luxury. You'll appreciate the easy-open rubberized lids and your clients will appreciate their new onyx or gold mani!
The lineup: What's The Password, Lavish Bash, Macabre Masquerade, Masked Ceremony, Risqué Encounter, and Voyeuristic Adventure.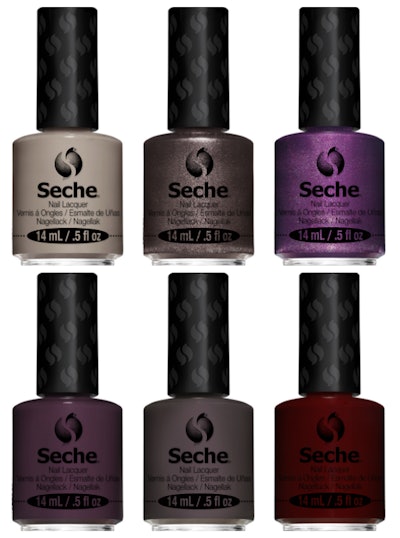 Warm and Cozy is the name of Seche's winter collection, and it's also exactly how you want your salon to feel when it's cold and blustery out. Create a refuge for your clients with these six smooth lacquers.
The lineup:  Sincerity, Captivating, Uplifting, Enchantment, Warm & Cozy, and Up Close & Personal.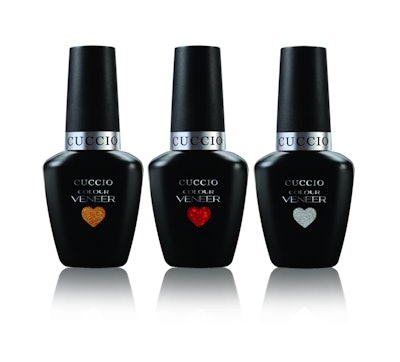 A totally 100% polish free formula that cures under LED, Cuccio Veneer is perfect to keep clients' manicures bright all through their holiday festivities. This season, they're debuting three new shiny glitters to try!
The lineup: Russian Opulence, Manhattan Mayhem, and Hong Kong Harbor.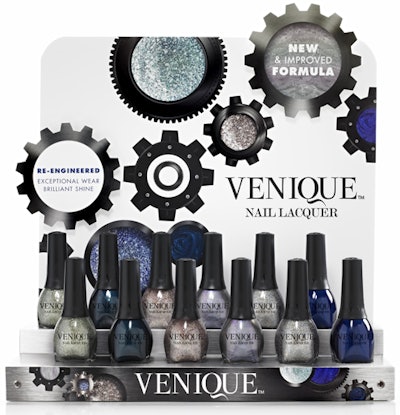 Venique is changing their formula, for even better application. Look out for these new lacquers in January!
[All images courtesy of respective brands]