Get ready to create some creepy nails! We want your salon to have the spookiest, scariest Halloween ever, so we've compiled these awesome nail product sets made just for the occasion. Check out all seven to see which you'd like to offer clients this month.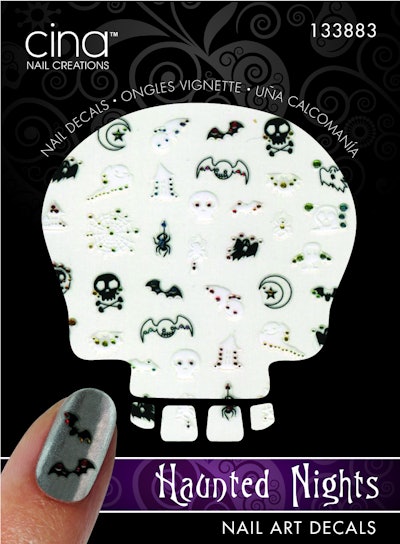 Provide the option of adding some quick pizazz to clients' manicures with the simple application of these Cinapro Halloween Nail Decals. One moment they'll have plain plum polish, the next, they'll be completely decked out for Halloween!
[Image: Cina Nail Creations]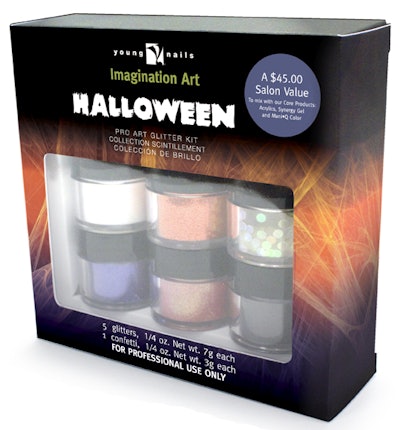 Young Nails Imagination Art Halloween Kit includes five glitter pigments and one blue-green confetti. These colors are ideal for creating vibrant designs with gels and acrylics. Curious as to how exactly they're used? Check out their tutorial video: https://www.youtube.com/watch?v=LKpZ8LgMcuo.
[Image: Young Nails]

All six China Glaze Monsters Ball polishes are frighteningly unique! Four have mega amounts of glitter: Howl You Doin' (shadowy purple), Bat My Eyes (gold), Boo-Gie Down (orange, black and white), and Fang-Tastic (green, blue and magenta). The other two in the set are the black textured Bump In The Night and Ghoulish Glow, a glow-in-the-dark top coat to finish it all off!
[Image: China Glaze]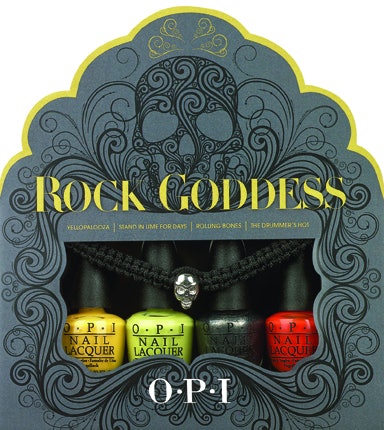 While the weather's cooling off, there's no need to play the blues! If your client wants to rock hot nail styles, have her try the OPI Rock Goddess Mini Lacquer Set, featuring three screamin' colors and one metallic: (from left to right) Yellopalooza, Stand in Lime for Days, Rolling Bones, and The Drummer is Hot. The set also includes a fierce bracelet, and is perfectly packaged to be a gift.
[Image: OPI]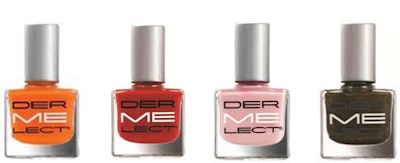 ?Dermelect Cosmeceuticals is flaunting four polishes this season, each to match a specific Halloween ensemble. For those partial to pumpkins, recommend Head Turner, a brilliant tangerine crème. Red-iculous creates vampy-varnished digits. Is your client looking for prince charming? Have her try the princess pink Persuasive. Does she claim to be a real witch? Then point her towards the dark espresso-colored Decadence.
[Images: Dermelect Cosmeceuticals]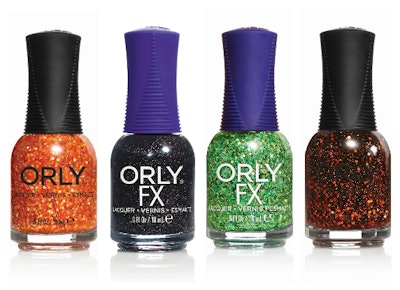 Orly has some of the most decadent glitters for Halloween! Both Right Amount of Evil (orange) and Monster Mash (green) have metallic hex and microbar glitters that make enticing accent nails. Black Pixel is a night colored textured polish with silver sparkles that looks like a dark twinkling sky. RIP encompasses both staple Halloween colors; it's a black jelly polish with autumnal orange glitter.
[Images: Orly]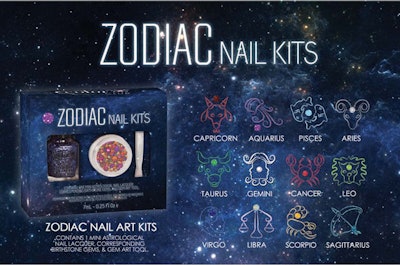 Perhaps not specifically themed for the holiday, Color Club Zodiac Nail Kits are still perfect for long, starry nights. What's so special about them? Each of the twelve sets is geared towards a different sign (Capricorn, Aquarius, Pisces, etc.) and includes a specially colored mini lacquer, gemstones correlated to that month's birthstone, and a tool for picking them up. Start carrying these sets in your salon now and sell them as gifts and stocking-stuffers to customers up until the end of the year!
[Image: Color Club/Forsythe Cosmetics Group]