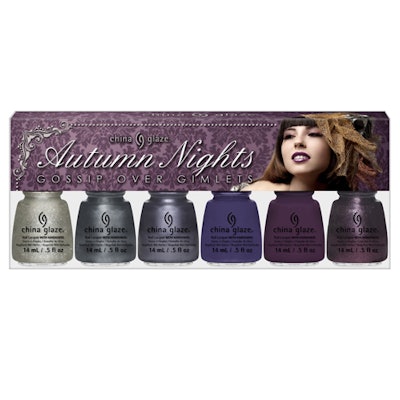 For clients who prefer dark, dusty colors for fall, China Glaze Gossip Over Gimlets is it! This season, China Glaze has two distinct parts to their Autumn Nights series: Gossip Over Gimlets (blues, purples, silver) and Strike Up A Cosmo (gold, bright jewel tones). Both halves have incredibly sparkly metallic hues that get us excited for the upcoming holiday season, but first we'll take a peek at Gossip Over Gimlets. See each of the six polishes up close and personal.
Gossip Over Gimlets is the namesake of the set, and for good reason. This shimmering silver applies perfectly opaque to nails with one coat, and is a good staple silver to use as an accent nail for designs all year long. It also leads the way for the similarly colored grey and pewter in the collection.
Kiss My Glass is a metallic pewter polish that features notes of blue. For that reason, we can see it working well alongside designs, like navy colored stripes.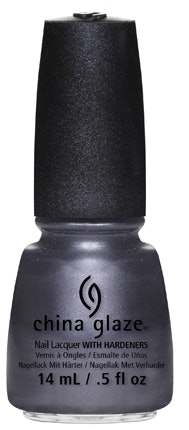 Public Relations is a purple toned grey metallic frost that is gorgeous for the fall season in general, but could also be incorporated well into an elegant version of a Halloween manicure.
Queen B is a purple creme suited for royalty and a necessary color to have on hand for autumn and winter months. It applies fairly opaque, even with only one coat.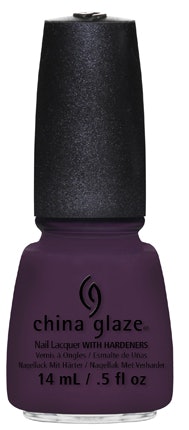 Charmed I'm Sure is a violet creme that is super smooth after application. While this shade could look vampy on any nail length, we'd love to see it tried on long, dramatic pointed tips.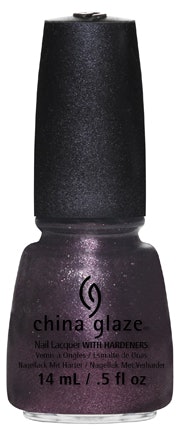 Rendezvous With You might just be our favorite, although it's hard to narrow it down to that! This purple foil polish looks thick even with a single coat, and is different from a lot of other fall hues we've seen.
[Images: China Glaze]