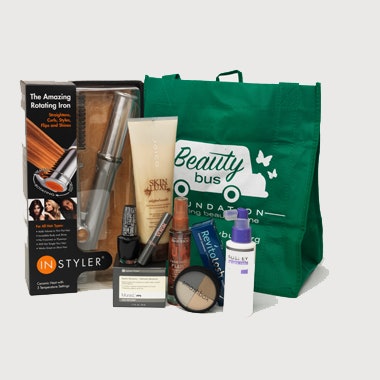 Beauty Bus Foundation delivers dignity, hope and respite to chronically or terminally ill men, women and children and their caregivers through beauty and grooming services and pampering products. Some of the services Beauty Bus provides include in-home beauty and grooming services, pop-up salons, and distribution of complementary bags of beauty products.
Give the gift of beauty this holiday season and help support Beauty Bus foundation with your purchase of the Beauty Bus Holiday Box of Beauty. For every Holiday Box of Beauty you purchase, two Bags of Beauty are sent throughout the country to clients battling illness & their caregivers.
Get the best products in haircare, skincare, nailcare and make-up for everyone on your list! The Holiday Boxes of Beauty support the launch of  Beauty Bus Foundation's 2012 national campaign to give the gift of beauty, free of charge, to those in need. Visit the Beauty Bus website to place an order!
Related: Beauty Bus Foundation on ABC's "Secret Millionaire"