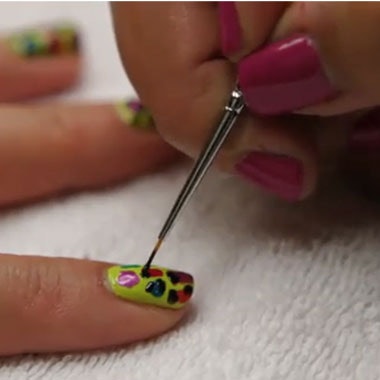 At a recent event, we spied a fantastic manicure on the hands of American International Industries' Alanna Littlepage. She used the vibrant colors found in the new summer nail polish collection by China Glaze, Island Escape (which you'll see featured in NAILPRO's June issue). This simple nail art tutorial will show you how you can recreate this look on clients…or yourself. Enjoy!
Related Videos: Lady on a Swan Nails • Lotus Flower and Swan Nails • Butterfly Nails • How to Apply Glitter Body Art Tattoo • Shellac Flash Mob on Times Square During Fashion Week • This Is It: Michael Jackson Nails • NAILPRO Guest Stars on "Nail Files" on the TV Guide Channel • Get Twinkle Nails • How to Use Valentino Beauty Pure • Elizabeth Ashton Ayurvedic Nail Spa • Tweet to Compete • Kim Kardashian Wows David Letterman with Lightning Minx • Nubar Gelicure Demos at ISSE • Learn the Sorbet Texas Technique at OPI • Orly Istant Artist
---
Post your nail art in our Users' Nail Art Galleries » and share, vote or link from your own nail art blog! Don't miss our digital edition for step-by-step nail art » and check our website's nail art archives » for nail art you might've missed!
---