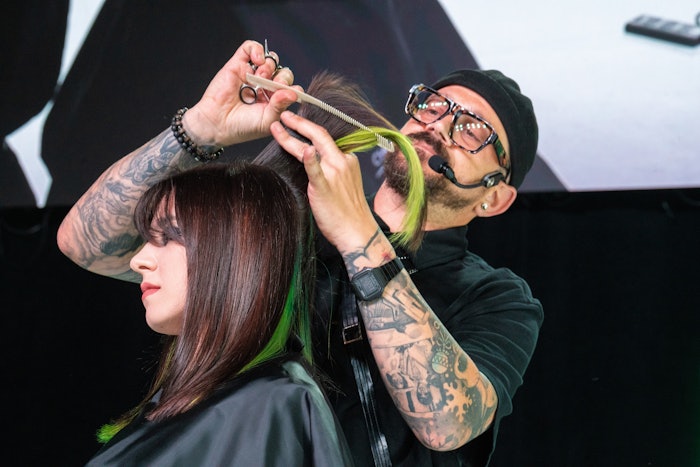 Courtesy of Premiere Show Group
Following this year's highly successful Premiere Orlando show, the Premiere Show Group is pleased to announce registration is now open for the launch of Premiere San Antonio, October 1-2, 2023, at the Henry B. González Convention Center.
"We're thrilled to grow Premiere Shows to reach new audiences in the southwest. Premiere San Antonio is the place to help innovators get in front of beauty professionals across the U.S. while simultaneously experiencing the latest trends, techniques, and new products the beauty industry has to offer," says Ed McNeill, Senior Vice President, USA Beauty LLC. "Premiere San Antonio provides a first-class opportunity to connect with 175+ industry leading brands from around the globe, explore a curated marketplace and experience hands-on educational sessions." 
Premiere Shows has a 30+ year history of supporting the beauty industry through world class education and is the nation's leading network of immersive events that bring together licensed beauty professionals, students, renowned educators and the hottest brands in the beauty community from across the globe. With the Premiere San Antonio show pass, attendees can expect two-days packed full of more than 200 educational classes, demos of the latest and top products, insights into current trends and techniques, exclusive offers to purchase the latest products and free admission to the Premiere San Antonio After Party. Participation in workshops and competitions can also be purchased for an additional fee. 
Shop, Connect and Learn from Top Brands 
Watch live demos, shop and forge invaluable connections with your favorite brands across hair, nails, barber, skincare, makeup and more. Select exhibiting brands include: Advance Esthetic, Amika, Andis, Apres, Avlon, BaBylissPro, Barberology, Chi by Farouk, Circadia By Pugliese, CND, Crown Brush, Dermaware Bio Targeted Skincare, Evolution Nails, Gelish, Halocouture, Hattori Hanzo Shears, Johnny B, Kenra Professional, Kokoist,L'Oréal Texture of Change, Matrix, Martinni Beauty Inc., Nail Factory Co, Nano Shape Of Beauty, Olaplex, Profiles Backstage, Redken, Rude Cosmetics, SalonCentric/State RDA, Sexy Hair, and many more! For a full list of exhibiting brands click here.
Expert-led Education
Attendees of Premiere San Antonio can expand their knowledge and upskill with two full days of classroom education, complete with over 200 complimentary sessions and 15+ hands-on workshops from the best experts in the industry. Professionals can also fulfill license requirements at Premiere San Antonio with the Continuing Education Package for just $28. Texas licensed professionals can have the opportunity to earn 4 CE hours provided by the Center of Attraction Hair Gallery and licensees in other qualifying states can earn up to 6 CE credit hours! Learn more at: https://www.premieresanantonioshow.com/en/education/continuing-education.html 
Top educators and artists include Lihn Phan, Sofie Pok, Presley Poe, Nicck Townsend, Matty Conrad, Danny Amorim, Matt Conn with SUNLIGHTS PRO, Danger Jones Artistic Asylum, Los_Cut_It & Papiblendzz with L3VEL3, Sam Villa, Danielle Keasling, J Ladner, Leysa Carrillo, Daniel Mason Jones, John Mosley, Tim Bo Mack, Wayne Tuggle, Jalia Pettis, Adrienne Dara, Tippi Shorter Rank, Lauren Wireman, Lavette Cephus, Barbero Bengie, Michelle O'Connor, Jacob Khan and many more! For the schedule of education and list of educators, view the show preview.
The Stages
The Premiere San Antonio Main Stage welcomes a powerhouse of educators from the hottest brands! Attendees will watch creativity come to life as they learn the latest techniques on color, style and texture from some of the biggest names in the industry, including BaBylissPRO, Matrix, Social Art House, SalonCentric #ItTakesAProTeam, Danger Jones, REDKEN and L'Oréal Professionnel. At the Barber Stage, professionals and students will take home the latest barber trends in classic cuts, modern twists, designs, fades and grooming all in one place! They will learn from barber experts Carlos Los_Cut_It Estrella, John Mosley, Matty Conrad, Lucas Kemper, Allison Cuts, Papiblendzz and Chuy Filos.
Competitions: Join the Premiere Legacy
Premiere San Antonio competitions offer the chance for attendees to show off their skills and gain industry exposure across hair, barber, makeup and nail categories. Nail competitors also have the opportunity to take home the coveted Nailympia Premiere Cup. To learn more and participate visit: https://www.premieresanantonioshow.com/en/education/competitions.html
The Premiere Experience
Get ready to connect, chill and unwind at the Premiere Lounge and Barber Lounge on the show floor. Complete with relaxed seating and convenient charging stations, attendees, exhibitors and brands can meet and greet with influencers and educators, catch up on work or just sip a cocktail. Complimentary beauty services offer the perfect preparation to snap a selfie for an Instagram-able moment. Don't forget to tag @premierebeautyshows and use #PremiereSanAntonio for a chance to be featured!
Register Early and SAVE!
Register by September 30th and save $20 off the day of show price. There are two price tiers remaining for professionals and students and the earlier you register, the more you save! 
Advance Rate (Professionals, $75 and Students, $55) available September 6th-30th
Show Rate (Professionals, $95 and Students, $75), October 1st & 2nd
Purchase your show pass today!