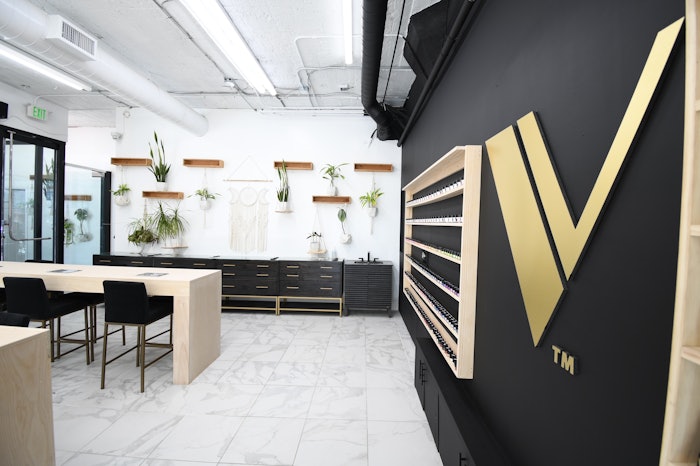 Courtesy of V Beauty Pure
V Beauty Pure, an internationally acclaimed professional nail care company, has opened its first brick and mortar location in Neihulé Academy of Beauty, a Los Angeles-based beauty school that offers education and training for beauty and wellness industry careers. 
Established by David DiLorenzo, V Beauty Pure (VBP) is a nail brand that seamlessly integrates nail art and lifestyle. VBP offers an array of products including nail essentials, acrylic powders, gel polish, dust collectors and more. For over five years, V Beauty Pure's goal has been to redefine the standard of "pretty" - offering dark matte black bottles in a sea of pink and white packaging. VBP's messaging in doing so is simple - "It's okay if you don't fit in, we don't either." 
V Beauty Pure has collaborated with numerous high-end salons and nail training facilities such as L'Oreal and Essie to equip them with its Source Capture Systems, which alleviates the odor and nail dust for nail technicians and clients. Now, they have partnered with Neihulé Academy of Beauty to establish its first retail experience that showcases DiLorenzo's inventive Source Capture System, among other products. This is a momentous moment for the brand, as they have yet to have availability to shop in-store - offering nail technician students, professionals, and educators a destination to explore its high-end nail tools, accessories, and range of products for gel and acrylic nail styling. 
"The V Beauty Pure addition to our facility will advance the training and education of our Manicuring program, lending industry-leading tools and products to our students and faculty that will set them up for success at our Academy and in their careers," said Yvonne Neihulé, co-founder, Neihulé Academy of Beauty.
With a shared mission to inspire, empower and teach technical and business skills to nail technicians, V Beauty Pure and Neihulé Academy of Beauty will be offering enrolled nail technician students a complete nail tool and product kits.
"This collaboration marks a significant milestone for us, as it presents our first-ever in-store opportunity for customers to immerse themselves in the world of V Beauty Pure products. We can't wait for individuals to experience the unparalleled quality of our gel polish, acrylic, dust collector, and other products we are so proud of. We are very excited to partner with Neihulé Academy of Beauty, a prestigious institution that shares our core belief of education and innovation in the beauty industry," says David DiLorenzo, founder of V Beauty Pure. 
V Beauty Pure's new retail experience will be open on August 18 at Neihulé Academy of Beauty.