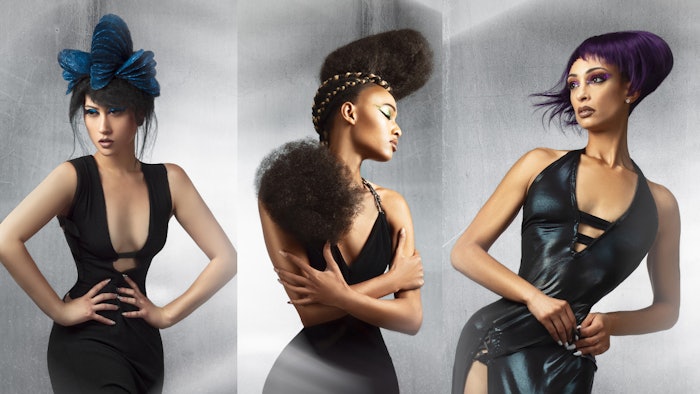 Courtesy of the Rogue Artistry Team
The ABS Global Image Awards celebrates the passion and artistry of professional and emerging stylists in an image and video competition that features professional and student categories.
This year's competition yielded entries from across the globe to enter their fiercest collections through image and video storytelling.
"Entering the Global Image Awards allows stylists and students to embrace their creativity, build confidence and shoot for the moon," says Karen Gordon, past president of Cosmetologists Chicago. "The styles and looks we see from this competition are a representation of what's trending around the world and what's next in beauty. Congratulations to all the finalists who entered this year!"
This incredible international competition is driven by intense creativity and passion by hairdressers, colorists, salon teams, nail technicians, makeup artists, students and teams. It culminates to a huge 100th America's Beauty Show celebration and presentation during ABS on the evening of Saturday, April 15.
All ABS attendees and the public are invited to the Cosmetologists Chicago Presidents Reception and cocktail party, which leads into the ABS Global Image Awards on Saturday, April 15, 2023. All are invited and welcome to join the celebration, and it is free to attend.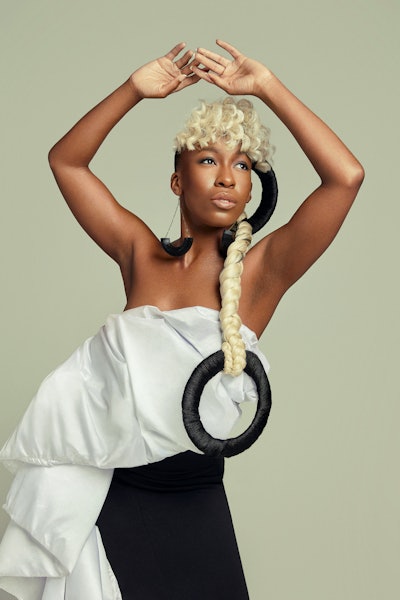 It will feature: The finalists and winners of the 2023 ABS Global Image Awards and a high-fashion presentation celebrating the 100th America's Beauty Show, presented by the Ulta Beauty Pro team. The night also features live music by Too Hype Crew, where you'll party to anthems of the 80s, 90s and early 00s with an all live six-piece band, MC's and "Fly Girl" dancers. The night is the signature ABS What's Next 100th anniversary celebration to come as you are, see and be seen. 
The ABS Global Image Awards were anonymously judged by an esteemed panel of industry experts, media, educators and elite artists. Each professional category will offer a single winner an impressive award from America's Beauty Show to display with pride. In addition to each category winner, one extraordinary submission will be awarded The Leo Passage Gold Trophy Award in honor of the late Pivot Point International founder, and Cosmetologists Chicago member, Leo Passage.
See the full list of finalists for the ABS Global Image Awards below. You can see their submissions by visiting ABS's website. 
BARBER – PROFESSIONAL
Ammon Carver, USA (@ammoncarver),  Tyler Kelbert, USA (@tyler_kelbert), Christian Rios, Spain (@christianriossalon)
CREATIVE COLOR – PROFESSIONAL
 Chrystofer Benson, USA (@cbensonhair), Greta Coston, USA (@gretacoston) Shogo Ideguchi, Japan (@shogoideguchi)
FULL CONCEPT – PROFESSIONAL
Enrique Serrano, Spain (@salongaudi), Stacey Smoker, USA (@stacey_smoker), Jamie Wiley, USA (@jamiewileyeditorial)
HAIRCUTTING – PROFESSIONAL
Chrystofer Benson, USA (@cbensonhair), Alfonso Martinez Bernal, Spain (@hairkrone), Shogo Ideguchi, Japan (@shogoideguchi)
MAKEUP ARTISTRY – PROFESSIONAL
Nohemi Capetillo, USA (@nohemi.capetillo), Jalia Pettis, USA (@jaliadp), Isidro Valencia, USA (@ivalenciamua)
TEAM COLLABORATION – PROFESSIONAL
CBC Chrystofer Benson Creative, USA (@haircbc_pro), JCPenny Salon, USA (@edgybgirl, @hairbyjsmith), Rogue Artistry, USA (@modaliza2, @hairbycherryp, @brycevandyke) 
TEXTURE EXPERT – PROFESSIONAL
Tyler Kelbert, USA (@Tyler_Kelbert), Astoria Stubbs, USA (@ms_stori), Matthew Tyldesley, USA (@hairbymatt)
TOTAL TRANSFORMATION – PROFESSIONAL
Chrystofer Benson, USA (@cbensonhair), Brayden Pelletier, USA (@justbahir), Detra Smith, USA (@detrashalee)
STUDENT
Olive Adrosik, USA (@facebyolive), Claire Daack, USA (@hairby.claireirene) Emily Wallace, USA (@Essex_Styling)
For more information regarding the 2023 ABS Global Image Awards can be found at AmericasBeautyShow.com.