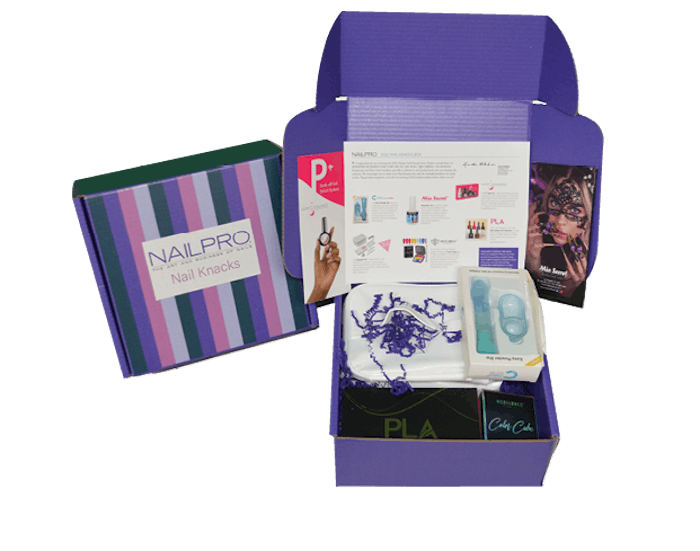 Introducing the Nailpro Nail Knacks Box! In December 2022,
Nailpro
delivered a curated collection of six professional nail products to 50 nail professionals in our very first
Nailpro
Nail Knacks box!
You can see what products were included in the box below. 
Licensed nail professionals send your shipping information and social media handles to [email protected] and [email protected] for a chance to receive future Nail Knacks boxes. Contact [email protected] to have your professional nail products included in future boxes.
Light Elegance
The P+ Hello Kit contains the essentials you need to get started with LE's HEMA-free soak-off gels. Perform fast, easy services ranging from structured manicures to elegant extensions using P+ Gel Polish and JimmyGel, or apply P+ QDBase for fast, seven-minute removal using acetone! lightelegance.com
Chisel Nail Art
The Easy Powder Dip manicure molding tray has three depths for creating French and marble nail designs. The tool is suitable for round or short nails, from oval nails from its shortest depth and extended nails from its deepest. chiselnailart.com
The GelBottle
DesignEx Pro™ by The GelBottle includes a USB flash lamp, All-in-One BIAB™, 100/180 half-moon nail file and 120/180 half-moon nail buffer organized in a portable carrying case, plus your choice of gel tips. thegelbottle.us
Mia Secret
Biobuilder Gel is an easy to apply structuring gel available in five colors with a consistency ideal for nail extensions using sculptural nail forms. Prep the nail with a dehydrator, primer and UV/LED gel base before application. miasecret.com
Modelones
No, it's not a cool new makeup palette. Modelones' Color Cubes are actually fun palettes of solid gel nail polish! This travel-friendly kit of nine bold polish shades will last more than 50 manicures and includes a professional nail brush. modelones.com
Paris Lash Academy
Paris Lash Academy's stunning Mini Holiday Gel Collection includes seven signature colors to create a range of holiday nail sets. All Paris Lash Academy nail products are 10-free! parislashacademy.com