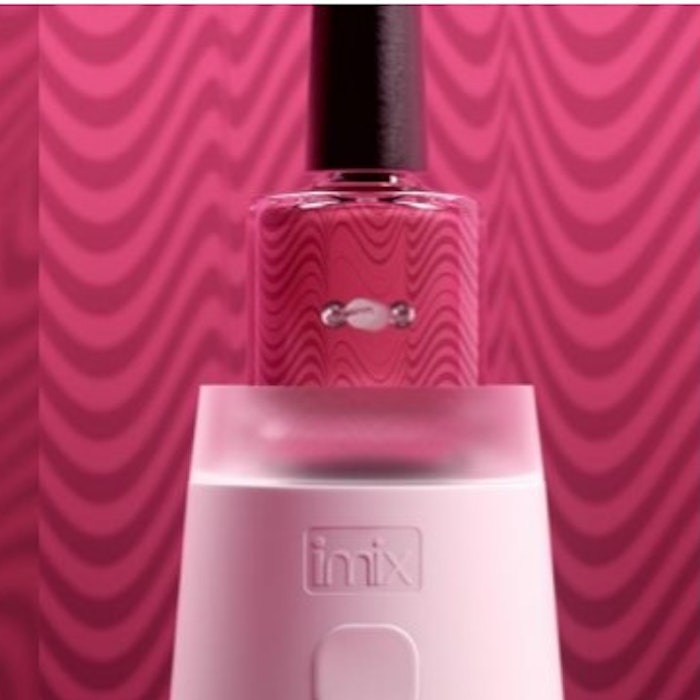 Famous Names has launched imix, a solution meant to ease the burden of shaking and separating thick of polish.
This hands-free color mixing innovation is suitable for all gel polish and lacquer formulas. imix is easy-to-use and effortlessly blends polish by using the unique imix miXers for perfect, streak-free results.
Why choose imix?
Can be used with any gel polish or lacquer formula
Provides hands-free mixing, looking after the health of the wrists, alleviating carpal tunnel syndrome and saving time
Improves the consistency of polish formulas for flawless application
Blends nail formulas for true and even color application
Reduces wasted polish, meaning more applications per bottle
Programmable lighting display
Complete with 10 complimentary miXers, a miXtractor and a 5m USB cable, plus instruction info
Additional miXers available in packs of 20 and 50
miXers can be easily removed from the bottle using the miXtractor and placed into a new bottle of the same shade
How to use:
Drop a miXer into the chosen bottle
Place bottle onto the imix launch pad.
Tap the on/off imix button and watch the customizable colors change, as the imix blends and develops polish (or gel) back to its true color.
Start painting.
Linda Nordstrom, Famous Names co-founder, said, "imix is a lacquer/gel polish color blending game-changer for the smart nail professional. Not only does this device mix polishes beautifully for an absolutely flawless application, but it also takes the pressure off the wrist and alleviates the effects of carpal tunnel syndrome (CTP). The slick and simple design works with any salon décor and sits neatly on nail desks for a mixing experience like no other!"