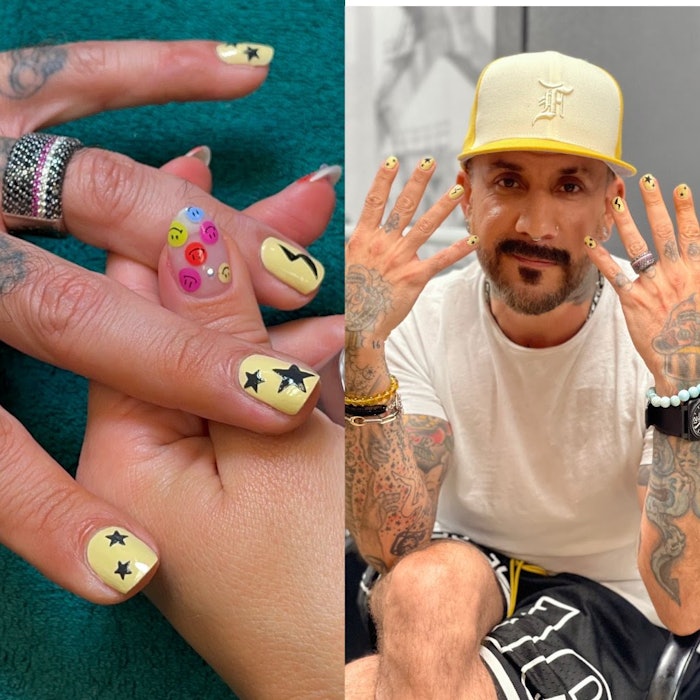 Courtesy of @julieknailsnyc
Julie Kandalec worked with AJ McLean, and his nail line Ava Dean Beauty, backstage before the Backstreet Boys' DNA World Tour.
Julie Kandalec is the nail professional and salon owner that editors, designers and celebrities call to make their dream nails come to life.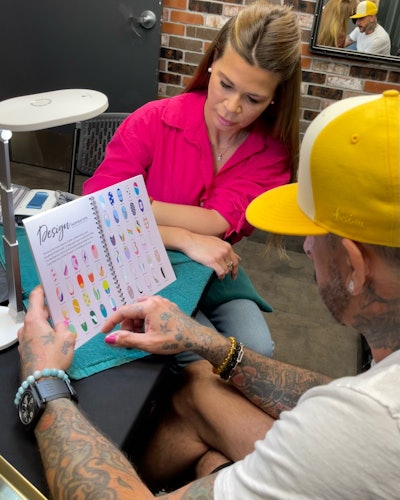 Kandalec and McLean sketched out McLean's celestial nail art in Kandalec's Nail Art Design Book using Ava Dean Beauty polish, aptly named after his daughters Ava and Lyric.
"Yellow was a shade he had not worn on tour before, and he was inspired by the night sky, as the concert venues are all open sky venues. I did black stars sprinkled throughout and two lightning bolts," Kandalec shares. "He chose these looks from my nail art design book, appropriately named MGK and "Melody."
Get the Look
Paint the nail with a pale yellow polish.
With a black nail polish and detailed nail art brush, draw a long 'Z.'
Make the center of the 'Z' wider so it becomes two long and narrow triangles.
Use the same brush to create stars or use stickers.
Apply two layers of a top coat to seal them in.