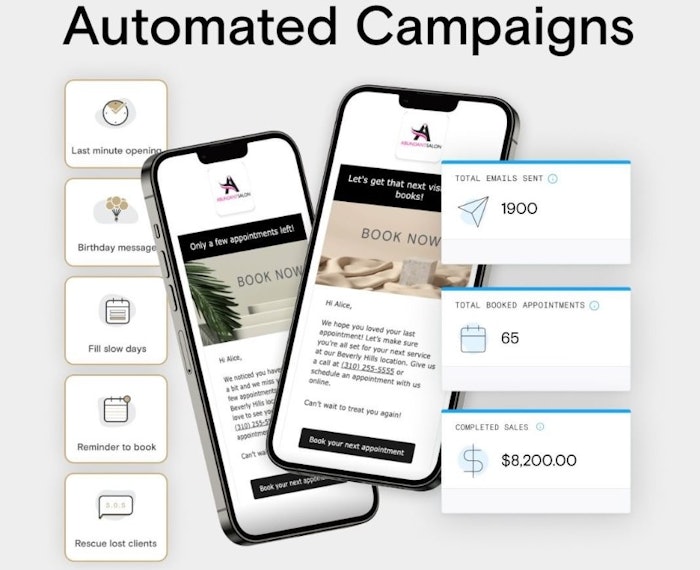 Courtesy of @joinblvd
Boulevard has launched the 

Boulevard Marketing Suite

, tools to help clients streamline and simplify their email marketing strategy.
Boulevard is a client-experience platform built for appointment-based, self-care businesses.
The Boulevard Marketing Suite is fully integrated into the Boulevard dashboard, allowing self-care professionals to quickly and easily create, execute, track and maintain email marketing campaigns that are both targeted and customizable.
Benefits of the Boulevard Marketing Suite:
Easy-to-use campaign builder helps self-care professionals customize every email to match brand, messaging and creative goals. 
Helps fill slow days and last-minute openings, rescuing lost clients and reminding loyal ones when it is time to book.
Leverages a pay-for-performance model for automated campaigns through which customers only pay for appointments booked.
Users leverage customizable templates that build brand awareness and match the specific email marketing needs of single- and multi-location salons, spas and medspas.
Users can leverage both one-time blasts that are ideal for general announcements, newsletters, promotions and business updates, as well as automated, always-on campaigns that enable professionals to stay in touch with clients and unlock new revenue.
Algorithms and safeguards deliver the right message to the right client at the right time, while also providing deep insights via robust performance reports.
"In today's digital age, targeted email marketing is essential to engaging with and retaining clients long after their first appointment," said Shanalie Wijesinghe, director of education, Boulevard. "Historically, executing an email campaign has not only required expertise in marketing automation but also significant time and resources—two things most self-care professionals don't have in abundance. The Boulevard Marketing Suite alleviates that challenge and takes the stress and guesswork out of email marketing with beautifully branded and personalized campaigns that require little in the way of time, effort or expertise."