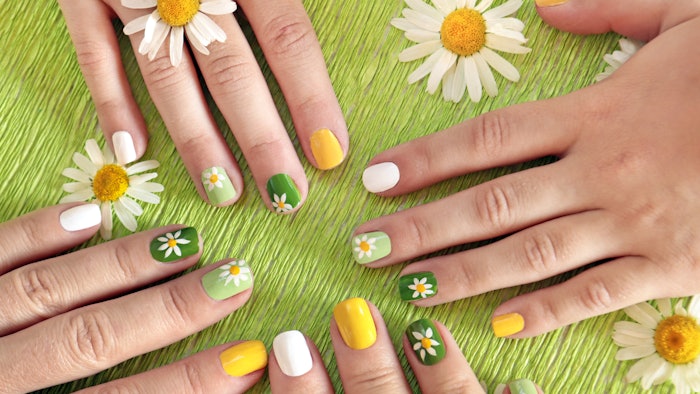 Although an Arizonan transplant like me may have reason to dislike this season, I enjoy summer, even when temperatures can exceed 120 degrees Fahrenheit. Summer means more cool desserts, vacation and opportunities for those Instagram-worthy vibes; be sure to check out the Social Media Success feature on what, when and how to post on your profile. Maybe you can capture your clients' nails with this season's new color collections in Inside Look. No matter the weather, make sure you protect your skin and hydrate.
Despite the potentially extreme temperatures, there is much to honor this time of year, such as Pride Month and Juneteenth. Browse through Guru's Guide and Nailspiration for sets to recognize Juneteenth and Pride Month, respectively. From what I have learned from the nail industry, we have a special community where freedom of expression and creativity are not only welcome but also highly encouraged, regardless of the color of a person's skin, age, background or whether they are female, male or nonbinary. Nails have no gender or limits, and what a time we live in to witness where nail services for men are normalized, which you can read more about in Nails Have No Gender: Eliminating Gender Bias in Your Nail Business and Men's Nail Art.
We are happy to be highlighting several incredible techs this issue who identify with our themes this issue. One of whom is the winner of our second cover contest of the year, Noelle Moore. Check out how she transformed what you see on the cover that celebrates summer, Pride Month, happiness and men.
Note: In the May 2022 issue on Page 11, Hien Nguyen's pronoun should be "his," and on Page 28, Debra Bourque's last name should be Bourque in the byline. Nailpro regrets the misprint and has corrected it in the digital magazine.
Nailpro Nail Show: Register and Join Us
If you have not heard, registration for the Nailpro Nail Show is underway! With much anticipation, we are so excited to see everyone at our nails-only show from Aug. 20-22, 2022, in San Jose, California. To register and find more information on the show and exciting happenings, visit nailproshow.com.
Nailpro Readers' Choice Awards 2022: Nominate Your Favorite Products
We have brought back the Readers' Choice Awards for a second year, and you have another month to nominate your top products, tools and more. Due July 1, 2022, you can nominate one product per category but for as many categories as you want. Voting will begin Aug. 1, 2022, and close Aug. 30, 2022. Just like last year, the winners and finalists will be announced via Instagram Live, the website, daily e-newsletter and in the November/December 2022 issue of Nailpro. Visit nailpro.com to find the nomination submission link, and stay tuned for more details.
This article was originally published in the June 2022 issue of Nailpro magazine.