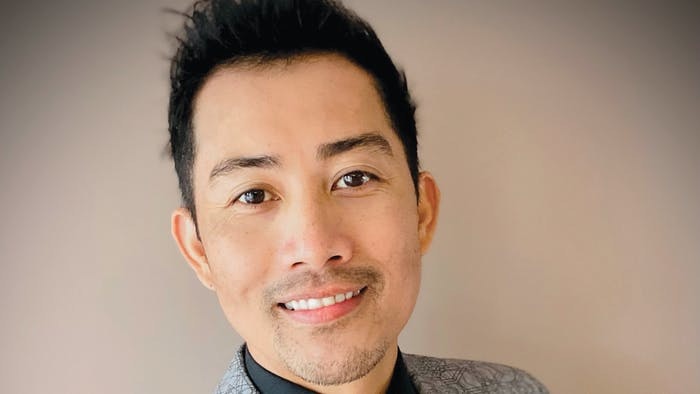 Trigger warning: The following story discusses struggles with mental health, suicide and addiction.
I [Lorenz Medina] came into the United States just like any other immigrant: to pursue a better life for myself with the help of my mother. Shortly after graduating high school, I joined the United States Marine Corps and was twice deployed overseas during Operation Iraqi Freedom and Operation Enduring Freedom.
As a result of my time in the Marines, I developed post-traumatic stress disorder (PTSD). My life hit rock bottom during post-service. I did drugs, became an alcoholic, lost the meaning of life to the point that I tried to kill myself twice. At the age of 27, I was back at home living with my mom. Then I met my now girlfriend, Michelle Pham, who suggested I do nails. At that time, I was not interested in being a nail tech because I did not think of it as a job for men.
My ego and pride were high because of my time in the Marines, but my stomach was empty. Eventually, I swallowed my pride and went to school for nails. After graduating, I started working at Venetian Nail Spa in Dayton, Ohio. I did not like it initially because I felt very out of place, but I received lots of encouragement from Michelle and her mom, which helped me keep going. Then I met Jin and Annie, the people who helped me with acrylics and welcomed me in as family.
During a challenging period in Texas—we slept in the car, slept in a small room with three other people on an air mattress—Jin and Annie kept pushing us to do better. All through this time, I found serenity and sanctuary doing acrylics.
We eventually moved back to Ohio to take care of Michelle's four siblings after the passing of her parents. Her mom had opened a nail salon, and we took over its management. I started doing acrylics, and even though I was not at the top of my game yet, I felt very good afterward. Creating an acrylic nail set was like therapy for me.
Over the next few years, I would stay late at the salon every day until about 3 a.m. to practice my technique and be free. Throughout this healing process, I stopped thinking about killing myself, and I stopped feeling sorry for myself. I started seeing the look on my client's face after I finished their service. I had been attending therapy four days a week, but those sessions soon subsided to two sessions and eventually to one. I now go to therapy about once a month.
When I say doing nails saved my life, it literally saved my life.
My journey allowed me to build a program called LBC (Let's Build Confidence) in which we travel and teach classes to everyday nail techs and empower those who feel like giving up on doing nails or life period. The program not only teaches them how to do nails, but we also have a team that teaches financial literacy and create funds for nail artist that need a little extra help.
Tips for Military Veterans and Nail Techs
For veterans from all nations, the battle does not stop in the garrison. We fight a different battle. We must adapt and overcome. Do what you must do to win this battle even if it is unconventional. I am living proof that it works.
For all the nail techs all around the world, please take my story as your fuel and inspiration to keep going. Life will throw lots of curveballs your way, but you must hold onto that bat tight and swing with all your might. Believe in yourself, and believe in your capability. You are strong. Remember that.
I always follow a simple rule that I learned in the military: "The mission comes first." Outside of that tunnel vision are just distractions.