Move into the light, this June, and experience the prismatic magic of the summer OPI Hidden Prism collection. Paint a pastel rainbow with 12 new shades, available in GelColor, Infinite Shine and Nail Lacquer formulas to leave clients' nails glimmering in the sunlight with glitter finishes, while glowing in the moonlight with shiny iridescence.
RELATED: Miss Pop Created Spring Nail Art with the OPI Spring 2020 Mexico City Collection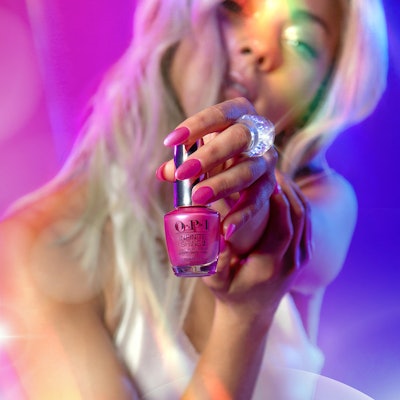 In this collection, electric hues get a sun-washed finish, while vibrant pastels add a dreamy gleam to fingers and toes. Poolside shades of blue and green evoke nostalgia for long summer days, and subdued, shimmery oranges and corals give a nod to warm summer nights.
"These 12 shades offer a modern evolution of the classic primary rainbow," says OPI co-founder Suzi Weiss-Fischmann. "Unique iridescent glitters and shimmer pigments add depth and dimension to a kaleidoscope of color. Hero shades She's a Prismaniac and Rainbows in Your Fuchsia offer a fresh take on the season's quintessential hot pink."
Six Hidden Prism shades, available in GelColor and Nail Lacquer formulas, include, glittery yellow Ray-diance, orange Magic Hour, pink She's a Prismaniac, purple Rainbows A Go Go, Pigment of My Imagination, Blue Hue? Is that really you? and glistening green Gleam On!
The collection's six remaining hues, available in Infinite Shine, include shimmering orange Coral Chroma, Optical Illus-sun, Your Lime to Shine, Prismatic Fanatic, violet Feeling Optiprismic and Rainbows in Your Fuchsia.