While veteran nail techs remain invaluable resources because of their experience, there's a new crop of talented young artists who are turning the nail industry upside down. So, we decided to scout some of the best 20-something nail pros for our first-ever 30 Under 30 awards. Get to know one of our winners, Canishiea Sams!
RELATED: 30 Under 30 Winners Revealed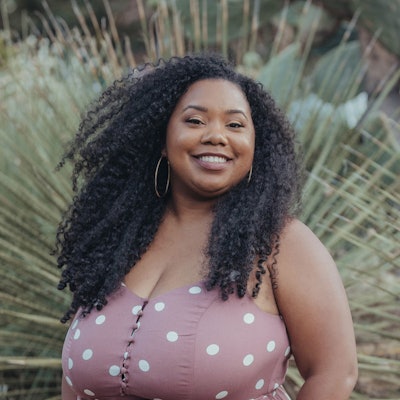 Canishiea Sams
Age: 26
Salon: Canishiea's Nail Art Studio (owner)
RELATED: 30 Under 30 Sierra Unsicker
Sacramento, California-based nail artist Sams spent her downtime in college practicing nail art with lacquer on her own nails. "I would search for prints and patterns on Pinterest to try to recreate them," says Sams. "I began to follow nail artists on Instagram and found an awesome community of women who have the same passion—it definitely lit a fire within me." Today, you'll find Sams marbling, creating abstract nail art using color blocking and negative space with Presto, Bio Seaweed Gel and Young Nails gel polishes. Sams finishes off her sets with gems and crystals. "I love nail gem placements—the possibilities are endless," says Sams. "You can coordinate unique designs with Swarovski Crystals, nail charms and embellishments to create a custom look for your client." Sams continues to look up to her long-time inspiration Ash Crowe. "I love that she focuses on natural nails, which has always been my passion. Her talent and art give me such joy and I'm in total amazement of her work," Sams says.
 

View this post on Instagram

 
—by Angelina Lewis