While veteran nail techs are invaluable resources because of their experience, there's a new crop of talented young artists who are turning the nail industry upside down. So, we decided to scout some of the best 20-something nail pros for our first-ever 30 Under 30 awards. Get to know one of our winners, Jessica Bornstein!
RELATED: 30 Under 30 Winners Revealed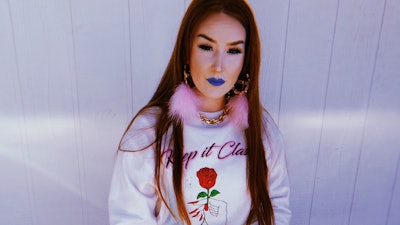 Jessica Bornstein
Age: 27
Salon: Stash House AZ
RELATED: 30 Under 30 Leibnitz Barragan
"Growing up, I always painted art on my own nails. Others constantly commented on my nails, encouraging me to try a career as a nail technician, and I thought, 'That could be fun,'" says Stash House AZ nail artist Bornstein. While working a series of serving and bartending jobs, Bornstein looked into nail school, but couldn't afford it at the time. "Years later while waiting tables, a restaurant guest grabbed my hand and says that after being in the nail industry for over 30 years, she'd never seen anything like my nail art—which were just flowers and cow skulls at the time," she jokes. "She begged me to come hang out at her salon and teach her my techniques." Not too long after, Bornstein took out a personal loan for nail school. She calls it the "best decision ever." Before becoming a nail artist, I sculpted polymer clay, carved soap and wood and painted with watercolor and acrylic. In her spare time, Bornstein finds satisfaction in rearranging her home décor and furniture. She says this may be why she loves arranging color—specifically The Gel Bottle Inc shades—, glitter, stones, charms and piercings on 10 tiny canvases.
 

View this post on Instagram

 
—by Angelina Lewis