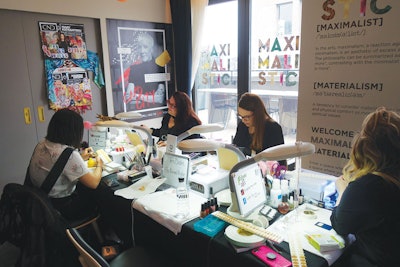 A briefcase lays open, revealing mountains of money—real money, the kind with Ulysses S. Grant's and Andrew Jackson's mugs on them. Oversize palm fronds in unnatural colors—think neon pink and orange—sprout from a centerpiece. Eclairs gilded in gold leaf and hyper-glossy truffles fit for the taste buds of Marie Antoinette sit untouched. It may look like a scene out of the Palace of Versailles mixed with a little South Beach kitsch, but it's actually the CND Design Lab in lower Manhattan during New York Fashion Week.
Amongst this excess of riches, a team of five CND nail techs—Torie Bastian, Winnie Huang, Tracey Lee, Heather Reynosa and Shelena Robinson—hunker down to put the finishing touches on 24 nail looks for the The Blonds' fall 2019 show. "The whole vibe in the Design Lab is decadence," says CND cofounder Jan Arnold. "All of the streamlined fashion has gone the opposite direction toward maximalism—it's all about materialism now." This over-the-top theme links up with The Blonds' mood board: "Think Elvira Hancock from the movie Scarface, Sharon Stone in Basic Instinct and Andy Warhol's The Factory, where everything was so extreme," says Arnold. "It's got this sinister vibe to it; everything is done in excess."
RELATED: CND Created the Nail Look for The Blonds x Moulin Rouge
Fitting, as CND isn't known for subtly in the nail art world. Piled-on jewels, intricate chain detailing, 3-D liquid-and- powder sculpts, intense textures, reflective finishes—this is in the company's DNA. So the marriage between CND and The Blonds—also known for their flash—remains a strong one season after season. "About six to seven weeks out, [The Blonds designers] Phillippe and David Blond give us all of their references in sketches, which helps us bring these characters to life," says Arnold. "Our partnership is so great with them; they'll give us a reference and we'll push it to another level and, to be honest, that influences how they finish their pieces on many occasions."
RELATED: CND Created a Memento Mori-Inspired Nail Look for the AW19 Libertine Show
For fall 2019, a dangerous femme fatale from the 1980s runs the nail narrative, and the 24 designs reflect that seductive wickedness. "We're inspired by '80s animal prints, emeralds, Columbian drug lords—anything excessive, rich and materialistic," says Roxanne Valinoti, CND education manager.
"You see it in the world right now: Minimalism is over. Just pile it on." Noting that a large segment of the nail designs riff on raw emeralds, Valinoti says, "Winnie hand-dyed clear crystals to give them this real, raw emerald appearance." It's a technique that techs who want to save themselves some time might want to adopt, she adds.
RELATED: 5 Nail Trends Straight Off the Runway
The '80s through line can also be seen in sharply squared-off French tips boasting a sugared free edge, which Valinoti feels updates them for today's client. Clear enhancements laced with Mylar thread or crystal chains look both delicate and powerful. "Clear enhancements are the next evolution of negative space— it's a trend we're seeing," Valinoti opines. And while animal prints have certainly been done before, the CND Design Lab continues to innovate, coming up with new ways to elevate an oft-repeated style. Lee tapped a 3-D printer to pump out a high volume of tiger claws and attached them to nails she polished orange with sugared black stripes. "If I built the claws out of liquid and powder, they'd be too heavy," she explains. "The 3-D printer makes them really light and uniform."
Huang, desiring an alligator's rough skin texture, went above and beyond to duplicate the effect. "We've all seen the drawn-on prints and stamped nail art, but I wanted it to feel and look like an alligator … so, I purchased a toy gator!" she exclaims, holding up "Gertrude." Molding putty, CND Brisa Gloss Gel Top Coat and sheer genius brought the technique to life, and Huang believes it's one that nail pros can easily achieve in their salons (see below). "You can premake these for your everyday client," she says. "Just pop them on and go!"
The end goal for the CND Design Lab is to innovate and, in turn, inspire the nail pro. "We love working with The Blonds because they give us the opportunity to maximize our talents and think outside the box," says Valinoti. "That way, we can give techs something new each season."
More Is More
Try these two "excess"-ible nail art techniques dreamt up by Winnie Huang for The Blonds.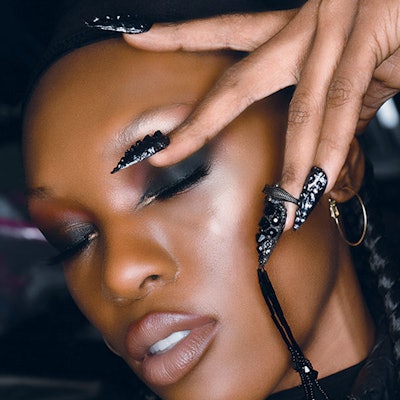 The Technique: Gertrude Gator
Recreate the 3-D texture of alligator skin.
What You Need: Molding putty, a toy alligator, CND Brisa Gloss Gel Top Coat, alcohol ink (from your local craft store), CND Creative Play Nail Polish Top Coat, a metallic CND Additive of your choice.
Step 1: Push the molding putty onto the toy alligator. Huang prefers the spine because it gives more noticeable texture.
Step 2: Add Brisa Gloss Gel Top Coat to the mold.
Step 3: Press a nail tip into the mold. "This prevents the gloss from running all over, plus adheres the 3-D texture to the nail tip—it takes on the shape and locks it in," says Huang. Cure.
Step 4: Pop the textured tip out of the mold. Paint it with alcohol ink. Huang prefers alcohol ink because it gives the nail art a "grittier, more transparent look" and "doesn't bulk up the texture" like polish would.
Step 5: Apply a thin layer of Creative Play Nail Polish Top Coat. While it's still a little tacky, brush the design lightly with a metallic CND Additive to add dimension.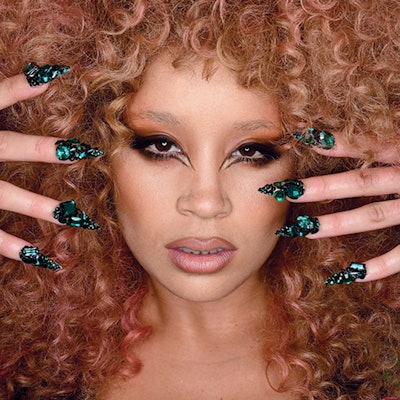 The Technique: Raw Emeralds
Create the look of real, raw-cut emeralds.
"When you get into the larger-cut stones, they're hard to find in different colors and they're expensive," says Roxanne Valinoti. This technique allows you to customize your color. "You can even do multiple colors on one stone—like a rainbow," says Huang.
What You Need: Clear rhinestones, green alcohol ink, a clean paint or polish brush.
Step 1: Dab alcohol ink onto the crystal with a clean brush. "It's so diluted, it soaks right through the crystal; you don't need a lot," says Huang.
Step 2: Allow the crystal to dry. No need to seal.
–by Karie L. Frost
[Images: Courtesy of Karie L. Frost]
This story first appeared in the September issue of Nailpro magazine. To receive the magazine, click here to subscribe.