Allow clients to experience the ultimate foot indulgence! Enter: newly released Voesh Peeling Socks! Perfect for your salon's retail space, this peeling foot treatment yields smooth results in as little as 7 days.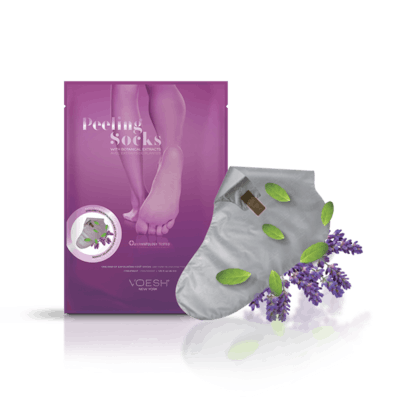 Formulated with only natural and safe acids derived from fruit, milk and sugarcane (AHA/BHA) to remove hardened calluses and rough skin, to reveal beautifully soft feet. Lavender and herb extracts nourish skin with soothing and healing properties, while the snug fit hugs the contours of feet for effective absorption.
RELATED: Voesh Launches Pedi in a Box Coco Colada Oasis
step 1
Cleanse and dry feet.
step 2
Cut below seal line on each sock.
step 3
Secure with sticker. Wear 90 to 120 min, but do not exceed.
step 4
Remove socks and wash feet thoroughly.Dead skin will naturally peel within 7 to 10 days, revealing soft, smooth feet and heels.
—by Angelina Lewis
[Images: Courtesy Voesh]