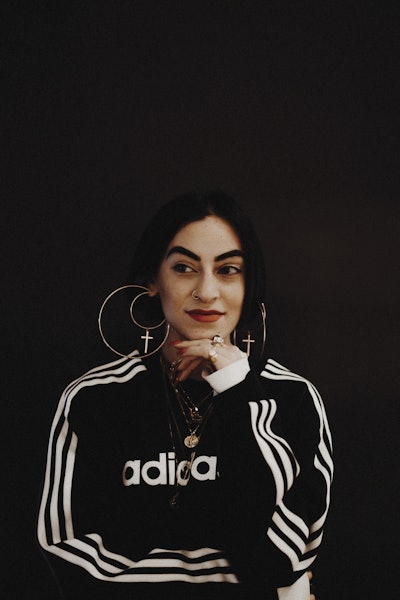 Sarah Nguyen recently took home a 2018 North American Hairdressing Award (NAHA) for Nail Professional of the Year, presented by the Professional Beauty Association during Cosmoprof North America, held at the Mandalay Bay Hotel in Las Vegas in July. First time proved to be the charm for this NAHA newcomer, thanks to her top-tier talents and a solid team behind her efforts, including hairdresser and NAHA winner Ammon Carver, owner of Ammon Carver Studio in New York. Here, Nguyen, a Swarovski certified celebrity nail artist, gives NAILPRO the scoop on her winning nail looks.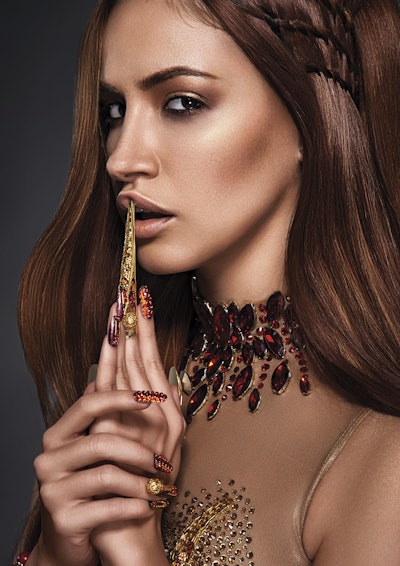 NAILPRO: Can you tell us about your professional background?
Sarah Nguyen: "I come from a fashion retail background, and when I reached a glass ceiling that I couldn't break through, I said ***k it and quit my job. I started practicing nails on some of my friends after receiving my license. Then one of my girlfriends told me to reach out to [celebrity nail artist] Gina Edwards, so I sent her a direct message via Instagram not knowing who I was reaching out to or what I was doing, saying: 'Hey, my girlfriend sent me your way! Wanted to reach out to see if you ever needed any assistance while on set or during shows.' Within a week she booked me to assist her on my first major photo shoot, Balmain's Yeezy campaign. That was just a small stepping stone, which eventually led me to signing with Kate Ryan for my freelance gigs. I also work out of Ammon Carver Studio a few days a week as their first nail artist."
NP: What does it mean to you to win the NAHA 2018 Nail Professional of the Year title?
SN: "I'm sincerely grateful and blessed to receive this type of recognition. I hope this will show others that you just need to stay true to you, no matter who says anything. Trust your gut."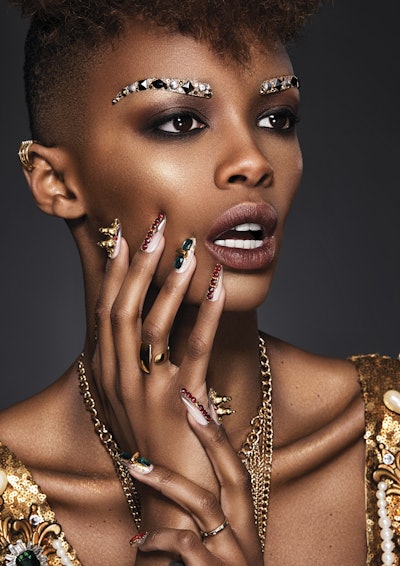 NP: What was your inspiration for creating the winning nail looks?
SN: "My heritage. I come from a pretty diverse background—my mother is Italian and Irish and my father is Vietnamese, French and Algerian—but I was raised Italian and Vietnamese, so the inspiration came from my father's side—lots of texture, gold, deep reds, burgundy tones, silk, decadence, royalty, etc."
NP: Can you explain how you created the looks?
SN: I create based off what my mood is or whatever my heart is feeling, but when I saw the wardrobe and the combination of crystals, gold, adornments, beading and texture, I just went to my kit and started pulling out all of my Swarovski crystals and gold hardware.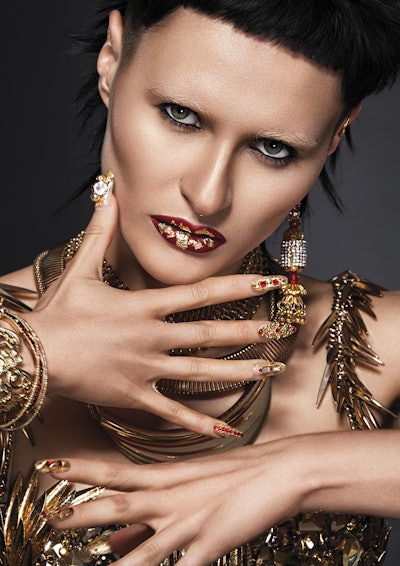 NP: How long did it take to come up with the idea and execute the shoot?
SN: "Honestly, I'm not the type of person who likes to plan or predetermine what it is I'm going to do. The concept came about a week or two before we shot, and once I saw the clothes in person and we started doing hair and makeup on set, I just pulled out my kit and started creating. I work best when I don't sit down and plan ideas. I love when things happen organically."
 
NP: Any tips you'd like to pass along for NAHA newbies?
SN: "When they say don't compare yourself to others, that's the truth. If you constantly look at others' work, then I feel like you don't give yourself the creative flow you deserve."
-Lotus Abrams
[Images: Courtesy of Sarah Nguyen and Richard Monsieurs]
This article was originally published in the October 2018 issue of NAILPRO