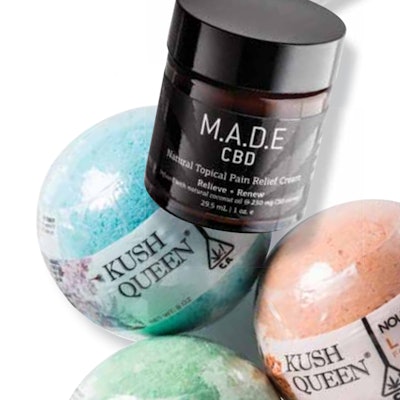 New cannabis-infused products aim to treat pain, inflammation and more.
With several states legalizing recreational marijuana use this year, and many other states relaxing restrictions, the once-illicit cannabis plant is gaining new fans at an unlikely place: the beauty counter. Cannabidiol (CBD), a cannabinoid compound derived from the cannabis plant, is quickly becoming the new "it" ingredient in beauty products ranging from bath bombs to beauty balms that aim to relieve pain, reduce inflammation, treat skin conditions like acne and psoriasis and even fight signs of aging. "CBD has been proven to be a powerful anti-inflammatory and antioxidant," says Olivia Alexander, founder of Kush Queen, which makes a variety of cannabis-infused beauty products. "We know the power of antioxidants in protecting our skin from free radicals." The chic packaging and sophisticated branding of this new wave of CBD products is piquing the interest of beauty aficionados who may never have considered using cannabis-infused products in the past but are eager to try the latest trends. Earlier this year, CBD beauty products even made a debut at TMG International's 14th annual pre-Oscar Beauty & Lifestyle Suite at the Beverly Hilton in Beverly Hills, California.
PHOTOS: The Exhibitors at Our Pasadena 2018 Nail Show
One thing CBD products won't do, however, is get you high. Unlike its cannabinoid cousin, tetrahydrocannabinol, or THC, CBD is nonpsychoactive. CBD derived from low-THC, industrial-grade hemp plants (as opposed to THC-containing marijuana plants) is legal in most states. Some manufacturers, such as Kush Queen, also make THC-infused beauty products, however the sale of beauty products containing THC is restricted and varies by state, with some allowing purchases only at dispensaries, which require a medical marijuana card.
As demand—and curiosity—has grown surrounding cannabis-infused beauty products, the nail industry is taking notice. At bimonthly Mani Pedi Oh So Heady events held in nail salons in California, for example, ticket holders can enjoy manis and pedis utilizing CBD-spiked beauty products and check out cannabis-infused goods from a variety of vendors.
RELATED: Dime Nails LA is a Perfect Ten
The Bellecures chain of nail salons is also catering to the CBD-curious with the recent launch of its Canna-Cure mani and pedi services, featuring Kush Queen CBD products, at all seven of its Southern California locations. "With the legalization of cannabis in California, we wanted to offer our clients a new way to feel relaxed and refreshed," says Gerard Quiroga, owner of the Bellacures nail salon brand. "We're marketing the Canna-Cure as a service for anybody who wants a relaxing, pampering,therapeutic experience that is aimed at relieving aches and pains." The service includes a Kush Queen Relieve Pure CBD Bath Bomb soak, exfoliation with the Renew CBD Hand and Foot Scrub, a massage with the Melt Away Pain Relief Lotion and a CBD chocolate.
Interested in introducing the benefits of cannabis-infused beauty products to your clients as part of a specialized service? Here are a few to try.
Dope Nailz DankOil (launching in July)
M.A.D.E CBD Natural Topical Pain Relief Cream
Kush Queen Bath Bomb
Hora Super Serum + CBD
Wink Sea Salt CBD Body Scrub
—by Lotus Abrams