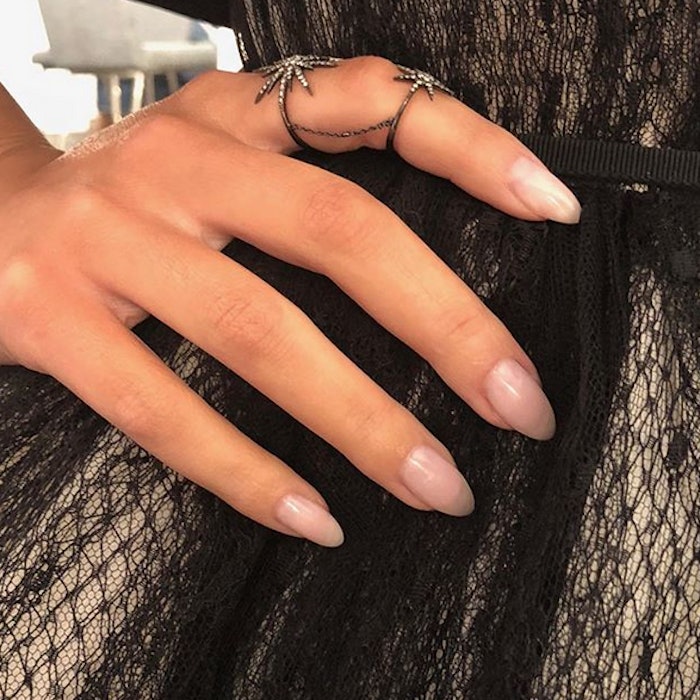 As award season comes to a close, all eyes were on the nails spotted on the 90th Academy Awards red carpet. Browse of roundup below of the best looks of the evening.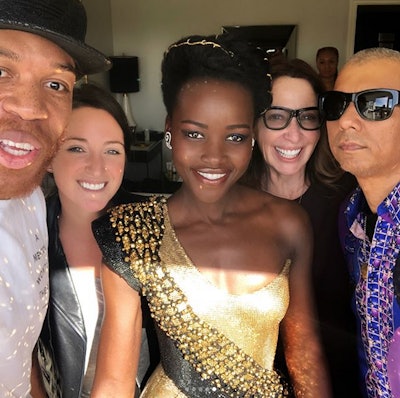 Celebrity nail pro Deborah Lippmann worked on four clients including Allison Janney, Lupita Nyong'o, Ashley Judd, Kelly Marie Tran and Common. "What another incredible season it has been for Red Carpet. It's always such an honor to work with these inspiring talent, whether they are up for an award and/or currently working on new projects. The Oscars is a captivating evening and I am proud to be a part of it," she said in a press release.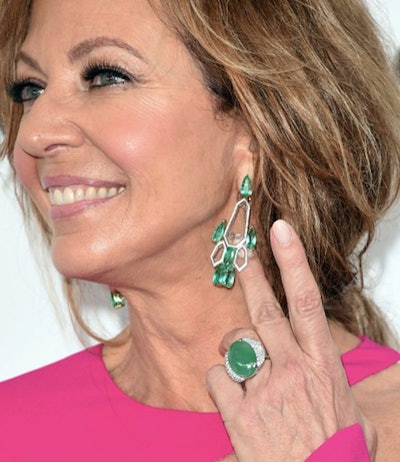 For Janney, Lippmann manicured her nails with one layer of Fashion and one layer of La Vie En Rose on top, and Single Ladies on the toes.
Kelly Marie Tran wore What Dreamers do.
Embed from Getty Images
Embed from Getty Images
Nyong'o wore Fade to Black and Can't Be Tamed on the edge of the nails.
Embed from Getty Images
Judd wore Love Hangover to perfectly match her ultra-violet-inspired gown.
Actress Saoirse Ronan wore Essie Treat Love & Color in Minimally Modest by celebrity manicurist Michelle Saunders. "Minimal, monochromatic chic was the inspiration for Saoirse's youthful, classy look tonight. minimally modest, a powdery pink from Essie's strengthening, care plus color line of polish, Treat Love & Color, was the perfect shade to accompany her satin Calvin Klein dress," Saunders said.
Actress Danai Gurira wore Essie in Limo-scene and No Place Like Chrome by celebrity manicurist Tracy Clemens. "We chose Limo-scene, a clean, pastel pink shade, to complement Guira's beautiful blush gown and added a dot of metallic no place like chrome at the base of each nail for added edge. Essie's Speed.Setter was the final touch for a high-shine finish," Clemens said.
Embed from Getty Images
Actress Emma Stone wore Ballet Slippers by celebrity manicurist Emi Kudo. "Emma is sporting a custom Louis Vuitton maroon pantsuit for this evening's red carpet. This outfit called for a classy, glamourous nail to offset her androgynous look. Essie's sheer, pale pink Ballet Slippers was the picture-perfect choice, finishing with Essie's Gel.Setter for added gel-like shine." Kudo said.
Embed from Getty Images
Actress Viola Davis wore Less is Aura by celebrity manicurist Christina Aviles. "The warm terra cotta Less is Aura from Essie's new desert mirage collection was the best beige nude to complement Viola's rich skin tone in addition to her hot pink Michael Kors gown. For a high-shine finish, we topped the look off with Essie's Speed.Setter," Aviles said.
Celebrity manicurist Merrick Fisher used Chanel in Gris Obscur for Kristin Cavallari.

Tom Bachik used a OPI's Chrome Effects on Margot Robbie.
Kerry Washington wore OPI gold chrome by Bachik.
Hailee Steinfield wore OPI in Bubble Bath by Bachik.
What did you think of these Oscars red carpet looks? Let us know in the comments below!
-Sigourney Nuñez
[Images courtesy of Getty Images, Instagram]