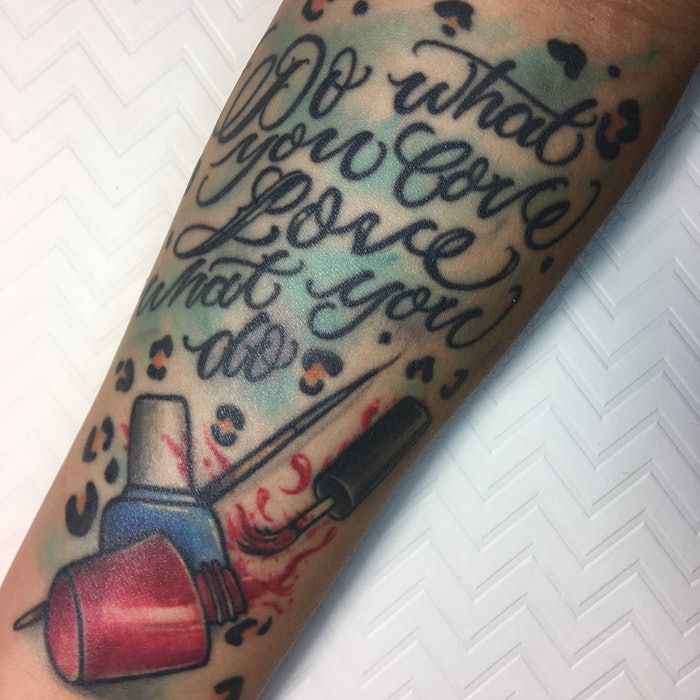 From humorous to heartwarming to professionally appropriate, nail techs share the tales of their tattoos.
The etymology of the word tattoo also helps describe its history. Derived from the Polynesian tatau, meaning "to write," this practice of etching skin with ink first hit Europe in the early 19th century, introduced by sailors returning from the Pacific Ocean islands. At first the branding was strictly for men, but today tattooing has become a universal means of self-expression. Many nail techs sport their own mark—which is perhaps unsurprising, given their naturally artistic bents. Here, 15 pros reveal intimate details about their tattoos and what those body designs signify.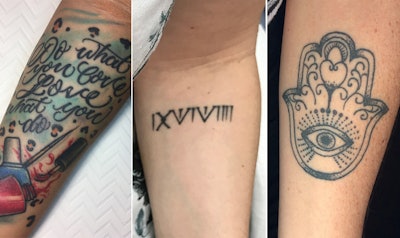 "This tattoo is dedicated to my life as a nail tech: two polish bottles with a nail art brush and leopard print, my favorite design. Next to that, words I live by: "Do what you love. Love what you do." Clients constantly ask to see it, as I think my tattoo illustrates how much I truly value my career." —Jacqueline Cruz-Otero, nail technician at LifeSpa Fort Washington in Fort Washington, PA
"This funky Roman numeral translates to '9672.' The first two numbers are the year my niece Marissa was born. The last two digits are my birth year. Marissa has a similar version of the same mark, as does her mother— my sister Janis. They're a constant reminder of the tight relationship the three of us share." —Elaine Watson, executive vice president of Kupa, based in Santa Clarita, CA
"I was on vacation at Santa Rosa Beach in Florida when I found out my tattoo artist suddenly had an opening in his schedule, so I drove eight hours to Main Line Ink in Chattanooga, Tennessee, to get my Hamsa hand. It's a protective symbol representing happiness, good health and fortune. I added the Evil Eye in the center to guard against negativity. This marking is a daily reminder that good things are coming my way. I've gotten so many compliments on it, and some clients have even requested nail art inspired by my piece." —Amy Rigsby, owner of Polished by Amy Nail Spa in Lafayette, GA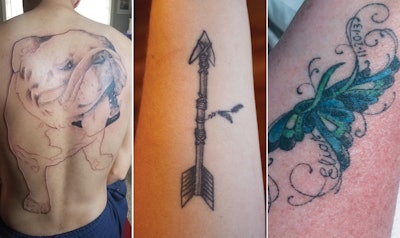 "I'm in the process of getting an image of my English bulldog tattooed on my back. My brother, Vu Nguyen, has been inking for 20 years. He's doing the work in increments from his Kansas City living room. I got my dog when I began my career in the nail industry. Tiger passed away two years ago, and it broke my heart. What I love most about this tattoo is how joyful I feel every time I see it." —Robert "NailGuy" Nguyen, Color Club global director and co-owner of House of Polish in Los Angeles, CA
"I sketched this design for two years before I went through with the tattoo. Just as an arrow must first be pulled back in order to get shot forward, it reminds me to hold my head high when life is trying to get me down. It's also a symbol of courage and strength that brings to mind my family. I grew up hunting with my father and learned countless life lessons while spending time with him in the woods. For many years he was my arrow. Now I've found my own direction and I'll follow it wherever it may go." —Katelyn Armstrong, freelance nail technician based in Columbus, OH
My grandson, Elias, suffers from Fragile X syndrome, a genetic condition that causes developmental problems and learning disabilities. I got this tattoo in his honor, as the butterfly signifies how life is simultaneously delicate and beautiful. Within its wings are my grandson's name and date of birth, and its body forms the Fragile X support ribbon. It has helped raise awareness for families affected by the disease and gotten me through many bad days, because I always smile when I think of my precious 3-year-old grandbaby." —Darlene Donovan, nail technician at Nail Creations in Derry, NH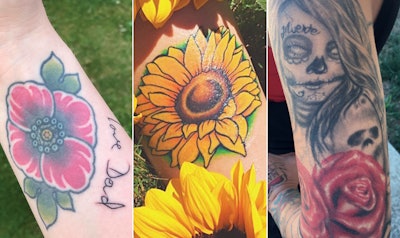 "This poppy represents my grandfather, who fought in World War II with the British Legion. He survived and returned home, and from that day my dad wore a poppy pin to honor those men and women killed in conflict. In May, my father passed away unexpectedly. That's when I added the words "love dad" below the flower. That was his handwriting, translated to my arm from a note he wrote me. We were very close. He even helped me start my career in 2013 by paying for my nail courses." —Anona Grice, owner of Nails by Anona in Rickmansworth, England
"Sunflowers have always been my favorite. They point their faces to the sky in order to blossom into full beauty, so the tattoo on my left forearm is a reminder to let shadows fall behind me. When I feel sad or discouraged, I look down and realize I must embrace warmth and positivity in order to flourish." —Aubrey Cycenas, nail technician at LaBella Salon in Glastonbury, CT
"I'm a big fan of Day of the Dead artwork, so when I saw this drawing by my brother's friend, I knew I had to have it on my arm. Then something interesting happened: The more I looked at my tattoo, the more I began to appreciate its meaning. In a world of darkness, hate and death, we can still find hope and beauty, as represented by the roses and lovely face of the deceased girl. When going through hard times, it serves as a reminder that happiness will again follow." —Karey Lawrence-Flores, nail technician at 20 Lounge in Del Mar, CA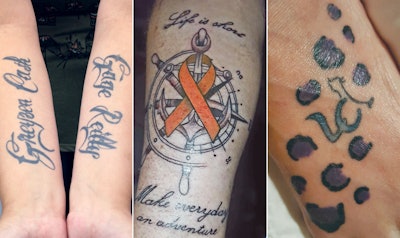 "I wanted my sons' names tattooed on me for years, but it took time to determine what that should look like. I finally settled on black script ink for "Gage Reilly" and "Greyson Cash." My kids are the most important people in my life. These markings give me motivation and strength to put forth my best effort at work each day so that my boys may be given the best opportunities." —Chelsea Munguia, nail technician in Redmond, OR
"This tattoo combines elements of things I hold important. I've always loved the ocean and traveling, hence the quotes and nautical design. I incorporated the red ribbon because someone I care about was diagnosed with MS. Recently, I hosted a fundraiser benefitting the National Multiple Sclerosis Society: Pennsylvania Keystone Chapter. I wear this mark with pride, and every day it inspires me to be better than the day before." —Marc Barr, nail technician at Above All Grand Salon & Spa in Wexford, PA
"My tattoo is the LeChat logo surrounded by purple leopard spots. I got the first part four years ago after a VIP get-together in Las Vegas. The idea just popped into my head while walking past a tattoo parlor. It's significant as I've been with the company for 17 years and this is where I've formed lifelong friendships. I added the second part last year at Cosmoprof, just because I love leopard print." —Yvette Holt, LeChat educator and brand ambassador, based in Reno, NV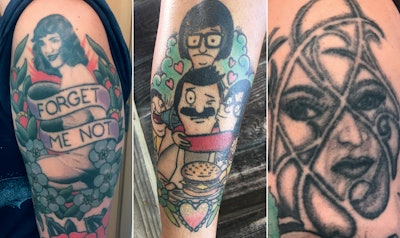 "My grandmother, Josephine, did a little pin-up modeling in her heyday, and forget-me-nots were her favorite flowers. She was like my second mom. Losing her was devastating, so I got this tattoo when I was 21 years old in order to have her with me always. It was a grueling eight-hour session, but the artist looked like Travis Barker from Blink- 182—hot! That made the painful experience somewhat more enjoyable." —Kelly Ornstein, senior nail artist at Juniper Nail Bar in Seattle, WA
"'Bob's Burgers' isn't just my favorite TV show, it effectively saved my life a few years ago. In the span of one week I lost my mother, my husband got deported and I miscarried twins at 13 weeks. That sitcom was the only thing to put a smile on my face. I like to think I'm Linda, my husband is Bob, Tina is my oldest daughter, and Gene and Louise are the twins we'll never forget. People think it's a cool tattoo, yet it also reminds me to keep laughing even when things get dark and scary." —Gabby Espino, nail technician at Polished Productions in Riverside, CA
"I was in ninth grade when I got my first tattoo. My mother's boyfriend did it for me. He was covered neck to feet in ink, and I basically badgered my mom day and night until she agreed to let me get one, too. The funny part is that he ended up free-handing some of the design, so the woman's face doesn't look like the goddess drawing I'd provided. Instead, it looks like my wife Teresa Cervantes! We were just friends at the time, so showing her the finished result felt super awkward." —Fabian Robles, nail technician at Salon Republic in Woodland Hills, CA
–By Francesca Moisin
This article was originally published in the November 2017 Issue of NAILPRO Magazine.
[Images: Courtesy of each tech]