Imagine having to gain not only your client's approval, but also the approval of her management team, fans and the media. Hollywood's top techs face this challenge on a daily basis and must carefully map out every detail to ensure that their clients' tips look flawless at all times. But all of the planning, time and effort pays off the moment the starlet shows off her perfectly-executed mani in front of thousands of people. Here, celebrity manicurists dish on the most memorable look they've created for their A-list clients.
CELEBRITY MANICURIST: Naomi Yasuda
A-LISTER: Madonna
EVENT: Super Bowl 2012 Halftime Show
MOST MEMORABLE MANI: "A few days before the Super Bowl, Madonna showed me the costume Givenchy custom-made for her performance. I decided to create a black and gold mani with stones to match her outfit. For her nails, I created gel extensions to make sure that they lasted throughout the show. It was my first time working with her, but she must have liked her nails—she's been my client ever since!
CELEBRITY MANICURIST: Miho Okawara
A-LISTER: Lady Gaga
EVENT: 58th Annual Grammy Awards
MOST MEMORABLE MANI: "Gaga's outfit was inspired by David Bowie, so I tried to make the nails a female version of him. The almond shape was to express his strength. People were saying that [the nails were] totally Bowie and Gaga's styles combined, which was the theme that we imagined."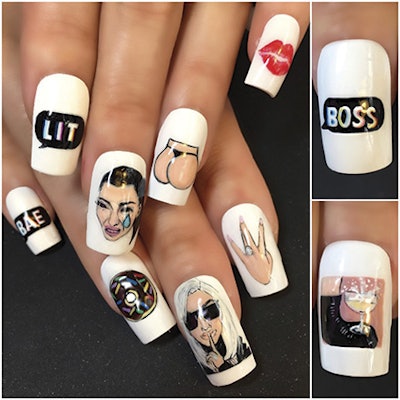 CELEBRITY MANICURIST: Britney Tokyo
A-LISTER: Kim Kardashian West
EVENT: Kim Kardashian West Official App
MOST MEMORABLE MANI: "Kim Kardashian West wanted me to paint Kimojis (West's personalized set of emoticons) on her nails for a feature on her app. She chose the exact Kimojis she wanted me to create, then I used art gels to hand-paint the designs on her nails. The whole process took about an hour and a half—much longer than my typical 30-minute appointments with my other celebrity clients. But the end result was worth it—Kim loved her nails!"
CELEBRITY MANICURIST: Julie Kandalec
A-LISTER: Viola Davis
EVENT: 67th Primetime Emmy Awards
MOST MEMORABLE MANI: "The nails were inspired by Viola's Carmen Marc Valvo gown, which was white with black hand-beading; we wanted the nails to be elegantly refined to match the mood. I used Essie First Base base coat, Licorice lacquer and Good to Go top coat. This manicure was so memorable to me because, while I was doing her nails, she was reading aloud from a notebook, but I got so wrapped up in my work that I wasn't listening closely to the words. It wasn't until later that night when she won the Emmy for her role on the ABC series 'How to Get Away With Murder' that I realized I was listening to her rehearse her acceptance speech!"
See the full article in the November issue of NAILPRO
–Dina Ciccarelli