Polish brand favorite Essie showed its hand this weekend at NYFW in NYC with a number of manicure looks for many designers. Looks included nudes, negative space and geometric shapes and were all created to compliment the trendy, runway looks from Rebecca Minkoff, Alexander Wang and more. Check out these fashion forward nails below:
Essie for Kith
Manicurist Alicia Torello for essie played with the designer's influence of the "modern tomboy" with a sporty nail design for some models and a softer nude look for other. To achieve the racing stripes look Torello used: first base base coat, really red, blanc, butler please and speed.setter top coat. For the nude manicure, Torello used: first base base coat, bare with me and speed.setter top coat.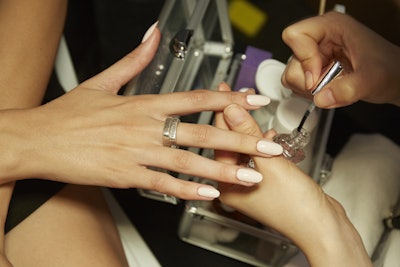 Essie for Alexander Wang
Rita Remark for essie also used a nude shade to create the look for Alexander Wang's Spring/Summer 2018 runway collection. Wanting to achieve a nude shade that is a "chameleon nude," and create a barely there look that was was achievable for everyone. The products that Remark used included: first base base coat, topless & barefoot and speed. setter top coat.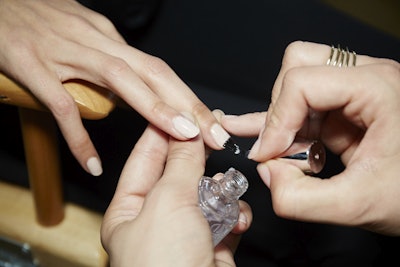 Essie for Rebecca Minkoff
Following the spirit of Rock n' Roll, essie Global Color Designer, Rebecca Minkoff created a collection that was abundant in fur, velvet and corduroy. Influenced by this inspiration, Anita Saunders for essie created a dynamic nail design using dressed to the nineties and girly grunge to achieve a rock n' roll look fit for royalty. Saunders started the look with first base base coat and finished with speed.setter top coat.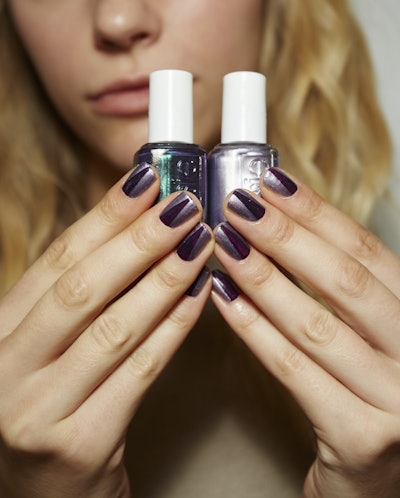 Essie for Monse
Rita Remark was also busy created negative space nail looks for Monse designers Laura Kim and Fernando Garcia for their Spring/Summer 2018 show. Kim and Garcia were influenced this season by the classic look of a varsity letter jacket so Remark created a simplistic look with bright stripes and a high gloss finish. And of course, she placed an "M" on each thumb. To create this look Remark used: first base base coat, blanc, really red, allure and speed.setter top coat.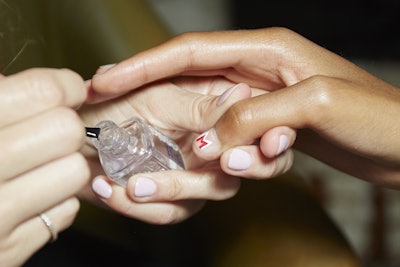 The Best Looks From NYFW S/S 2018
How do you feel about these looks by essie? Let us know in the comments below and be sure to check back to see all of our NYFW coverage for Spring/ Summer 2018!