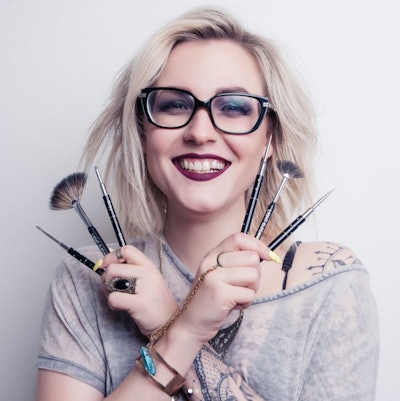 With nearly 200,000 followers on Instagram (@celinaryden) and close to 20,000 subscribers on YouTube, nail artist Celina Ryden often gets asked about her nail tools of choice. The Stockholm, Sweden-based tech is known for her nail art and now, she's ready to share her expertise with you.
"These brushes, I promise you, are absolutely going to change your nail art game," Ryden said in her YouTube video where she gives an in-depth overview of her exclusive nail art brush kit by Light Elegance. The international educator and brand ambassador said she worked with Light Elegance for one year to perfect the set of six nail art brushes. Ryden even hand counted every single bristle on each of the half a dozen brushes, making sure each brush was designed to work well. "Nail art should be fun, and if you don't have brushes that are high quality and in good shape, it's not going to be a lot of fun," Ryden said on YouTube.
The six brushes come in a white matted carrying case that doubles as a brush holder. Each sleek black and silver brush also includes a travel-safe cap, and of course, the brushes are embellished. Included in the kit is also a brush description sheet that explains what each brush is designed to do. The brush kit is the first product in the forthcoming Celina Signature Series in collaboration with Light Elegance.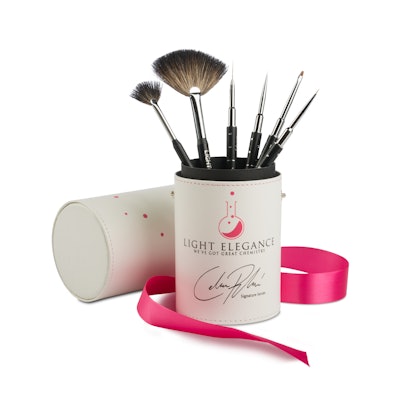 The Celina Ryden brush kit features:
Shorty, for detail work and dots
Swirly, for swirls and long strokes
Stripy, the perfect striper brush
Block, a small oval-shaped tip for rose quartz designs and marble effects, as well as close color application near the cuticle area.
Fluff Daddy, designed for use with pigments and glitters for full coverage application, fades and to help brush off excess.
Lil' Fluff, for sugar or pigments highlight application with precision
Watch this video below to learn more about the Light Elegance brush kit:

The Celina Signature Series Nail Art Brush Kit is available now at www.lightelegance.com or your local distributor.
Which one of these new Celina Ryden brushes in your favorite? Let us know in the comments below!
-Sigourney Nuñez
[Images: courtesy of Light Elegance, Instagram @celinaryden]