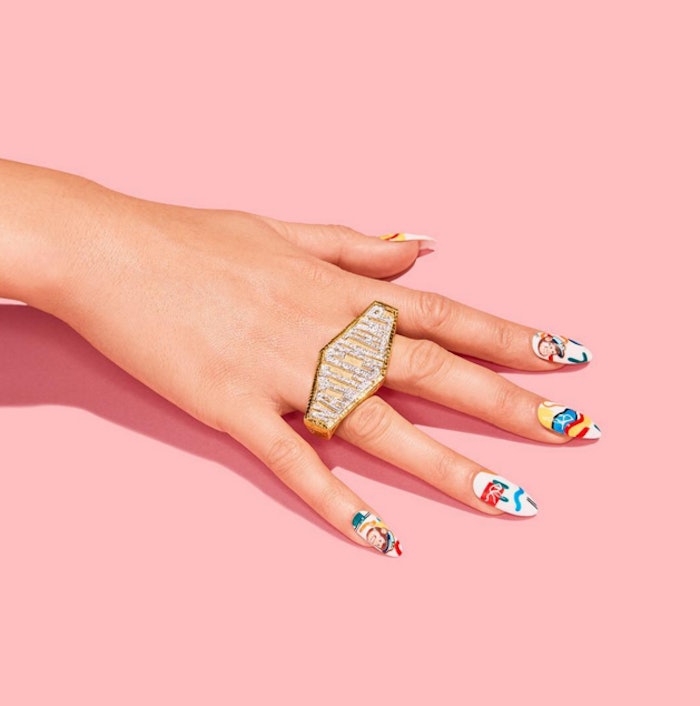 In the mood to let your nail art compete against some of the best in the country? Look no further than NailChamp, a platform for artists to share and submit their nail art designs to compete against some of the best pros and enthusiasts around.
NailChamp is the ultimate nail art battle, which showcases some of the best nail art designs across the country and serves as a platform for artists to show off their work. Nail artists can compete against each other, and fans will decide the winner. From licensed celebrity nail artists to nail art influencers including Nina Park (@ninanailedit) and Reina Santos (@reireishnailart), anyone can compete. You'll also find inspirational nail designs to motivate your next polished move.
Contenders are given a different challenge each week including 30-minute nails, mood nails and more. On the final week, artists will be able to showcase a design of their choice.
We had the chance to learn a little more about NailChamp and the competition. Vote for your favorite designs at NailChamp.com to help decide each week's crown NailChamp.
What is the Nail Champ and when did it launch?
NailChamp.com showcases some of the best nail art in the country by pitting artists against each other in a weekly competition. It's the ultimate nail art battle and fans decide the winner. You can vote for your faves at NailChamp.com to help us decide each week's NailChamp. The competition started on January 17, 2017.
Who created the competition?
NailChamp was created by MailChimp, who are fans of awesome art everywhere!
What's the intention of the competition?
To create a fun competition where nail artists make beautiful work that their fans can enjoy.
How did the Nail Champ select the Top 12 artists?
We chose our contenders by looking at a mixture of both established and up-and-coming nail artists from all over the map (LA, NYC, Atlanta, Seattle, Boston, New Orleans). We found some artists via contacts in the fashion industry, others through nail art blogs, but we discovered most of them through Instagram, where the nail art community is strong.
Are all the artists licensed or is there a mix of enthusiasts as well?
We wanted to showcase a variety of talent, from licensed celebrity nail artists to nail art enthusiasts who have a grown a following on Instagram. We were blown away by the creativity all around.
Will there be weekly challenges?
Yes. We're giving our contenders a different challenge every week. Week One's challenge is "30-minute nails," which means the artists have to paint their designs in 30 minutes or less. Week Two, the artists will try their hand at "Mood Nails," where they'll create designs inspired by a specific mood.
The Week Three challenge is "Marathon Nails," so the artists make nail art specifically for longer nails. Week Four is "Color," which means all designs will be inspired by a single color. And Week Five, the artists get to do whatever they want.
What's the grand prize?
Bragging rights! While there's no actual grand prize, we do want to give these amazing artists a platform to showcase their work and try new things. We want to help them reach a broader audience, too.
What's the timeline for the entire competition?
The competition runs weekly challenges starting every Tuesday from January 17 to February 21.
Which current contender is your favorite? Let us know in the comments below!
[Images: Instagram @nailchamp]
-This post was originally published on nailtimag.com.