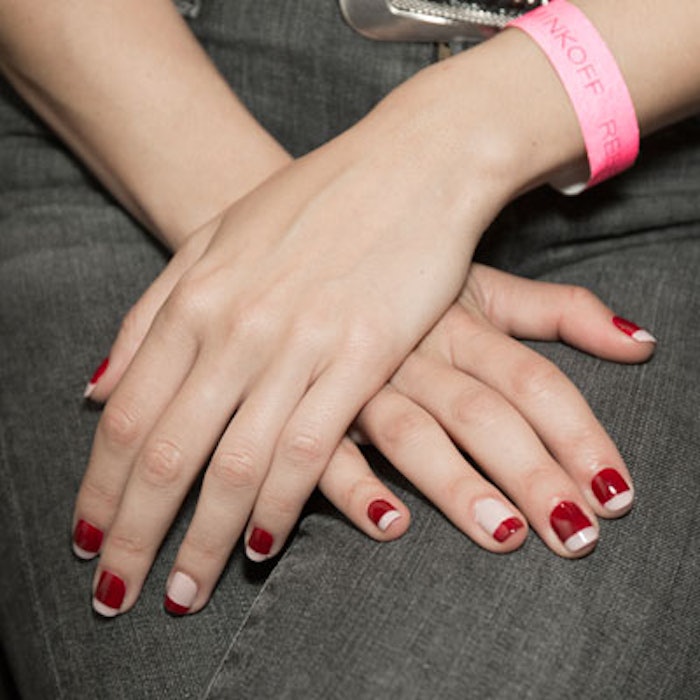 Lisa Kudrow isn't the only star making a comeback! For Rebecca Minkoff's Fall 2016 collection preview at her revolutionary "see now, buy now" show, celebrity manicurist Michelle Saunders brought back the French tip, this time, giving it a fall-ready, eclectic cool girl makeover.
The French tip has slowly made a comeback as more designers and nail artists feature new ways to modernize the classic with bright colors, geometric lines and embellishments, transforming what was once a standard pink and white into a modern, versatile look.
While any two colors may be chosen to recreate this look, Michelle Saunders went with two muted colors to represent the fall collection: essie Go Go Geisha and Maki Me Happy.
For step-by-step instructions on how to recreate this new classic classic, keep scrolling.
essie Products Used:
Go Go Geisha
Maki Me Happy
Get the Look:
Prep and clean nails; apply First Base base coat.
Apply Go Go Geisha to just the ring fingers, and let dry.
Then, paint Maki Me Happy on the rest of the nails.
Now, take Maki Me Happy and while angling your brush horizontally, drag it across the tip of the ring fingers (about halfway down the nail).
Using Go Go Geisha in the same fashion, paint across the tips of the other nails to complete the look.
Seal the design with Gel.setter top coat.
Pro Tip: Michelle suggests holding the brush horizontally to create a crisp straight line. If not using a brush, use clear tape to tape off the area at the tip. If you're more experienced with your nail art, you can instead create negative space by painting the entire nail your base color and then using a flat brush dipped in acetone to remove the tip of the nail's polish before painting with the accent color.
See more backstage photos below!
Images courtesy of BPCM.